Russia's UK ambassador demands proof over claims of strikes on Syrian citizens made in parliament
Published time: 17 Oct, 2016 16:40
Edited time: 18 Oct, 2016 16:46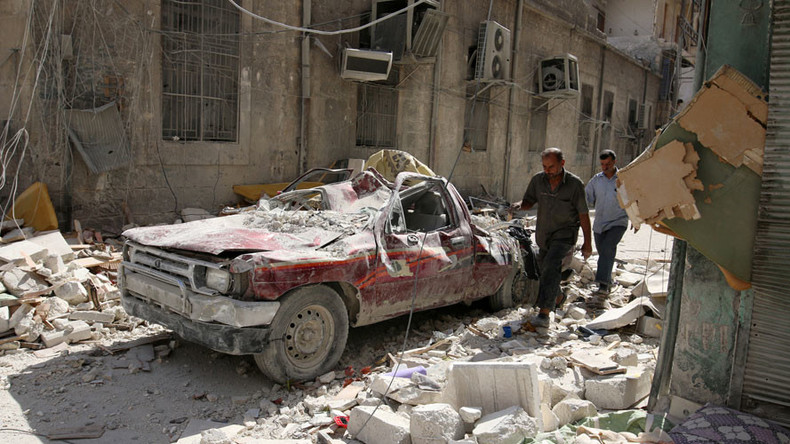 The Russian ambassador to the UK is demanding proof of "deliberate strikes against civilians" in Syria, after UK Foreign Secretary Boris Johnson demanded Russian President Vladimir Putin stop "puppeteering" Syrian President Bashar Assad.
Russian Ambassador to the UK Alexander Yakovenko said in a statement that while he too is concerned over the "humanitarian situation" in Aleppo, the fight against terrorism is Russia's top priority.
"We have been working hard with the United States within the framework of the International Syria Support Group (ISSG), as well as on a bilateral basis in order to ensure a sustainable ceasefire and transition to a political settlement in Syria," said Yakovenko.
"All of this was being done on the basis of the principles enshrined in the documents of the ISSG and endorsed by the UNSC Resolution 2254, which emphasizes the need to 'prevent and suppress terrorist acts committed specifically by Islamic State [IS, formerly ISIS, ISIL], Al-Nusra Front and all the other individuals, groups, undertakings, and entities associated with Al-Qaeda or ISIL, and other terrorist groups, as designated by the Security Council', and that 'the ceasefire will not apply to offensive or defensive actions against these individuals, groups, undertakings, and entities.'
"We are committed to the fight against terrorism, and will not 'run out of road.'"
Former London Mayor Johnson, who is visiting Luxembourg for a European Union foreign ministers meeting, took the opportunity to call on President Vladimir Putin to "pull the plug" on Syrian leader Assad. He also urged for the bombing of Aleppo to stop, while hinting at economic sanctions as a way to apply diplomatic pressure on Moscow.
"We will be discussing how to keep the pressure up on the Assad regime and on its puppeteers in the form of the Russian government," Boris told the press, after talks with US Secretary of State John Kerry made clear that there was no will for Western intervention in the five-year-long war.
He added: "The future salvation of Aleppo lies really with the Assad regime and above all with the Russians. It is up to them to pull the plug on this thing, to see sense, and I appeal to the greatness of the Russian people to choose a different path and to go for peace and get us back on the path of negotiations in Geneva."
A few hours later, Yakovenko told journalists that British "members of Parliament with no grounds whatsoever accused Russia, along with the Syrian government, of deliberate strikes against civilians, which the Foreign Secretary tried to qualify as 'war crimes.'
"Ten days ago the Russian Embassy formally requested the Foreign Office to provide the proof that supports these allegations of Boris Johnson. Otherwise, we will consider these accusations to be outright lies that serve to protect [terrorist organization] Jabhat al-Nusra and probably the British military personnel in Syria.
"We are waiting for a reply."