New sanctions against Russia won't help Syrian population – German FM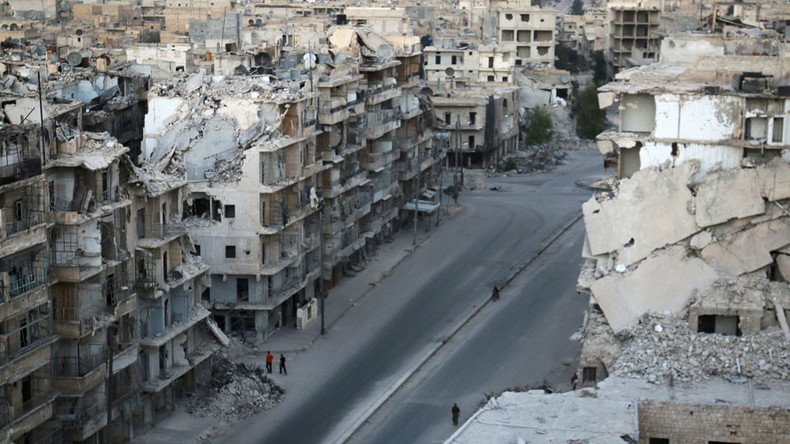 Germany's foreign minister doesn't believe that possible new sanctions against Russia are the correct way to help people in war-torn Syria. The EU meeting which gathered to talk the restrictive measures did not approve any of them, but did accuse Russia and Syria of possible war crimes.
"Since the beginning of the offensive by the regime and its allies, notably Russia, the intensity and scale of the aerial bombardment of eastern Aleppo is clearly disproportionate," the EU foreign ministers said in a statement after talks finished in Luxembourg on Monday.
"The deliberate targeting of hospitals, medical personnel, schools and essential infrastructure, as well as the use of barrel bombs, cluster bombs, and chemical weapons, constitute a catastrophic escalation of the conflict ... and may amount to war crimes."
Nonetheless, the EU foreign policy chief Federica Mogherini said Brussels does not seek to apply more sanctions to Russia over its role in Syria.
"This has not been proposed by any member state," Mogherini said before the meeting.
The government of Bashar Assad may, however, face additional international restrictions.
"But we have sanctions on the Syrian regime... and there are discussions on that, for sure, [expanding] that could be possible," she added, quoted by AFP.
German Foreign Minister Frank-Walter Steinmeier made it clear he was against further sanctioning Russia.
"At present I don't see how sanctions, which may have a long-term impact, should help here to improve the provision of the civilian population," he said. Steinmeier added he is not the only one who is "skeptical about sanctions in this regard."
"Coming from there, it is progress that we have this weekend managed to get important negotiators together to talk about Syria," Steinmeier said, referring to renewed talks over the weekend between Washington and Moscow, alongside seven Middle Eastern states, to broker a ceasefire and aid deliveries to Aleppo.
Austria is also opposed to sanctions against Russia.
"The idea to have additional sanctions against Russia would be wrong," Austria's Foreign Minister Sebastian Kurz told reporters, according to Reuters. "We do not need a further escalation."
France, along with outgoing EU member UK, hold a different view and appear to support new restrictive measures on Moscow, which is already under Western sanctions after the 2014 Crimea reunification with Russia.
British Foreign Secretary Boris Johnson said on arrival in Luxembourg that the meeting should come with a solution on "how to keep the pressure up on the Assad regime and on its puppeteers in the form of the Russian government."
"As everybody knows there is a variety that we're doing, there's economic sanctions, but there's a huge amount of diplomatic pressure also being applied," he added.
"The pressure [on Russia] must be strong," French Foreign Minister Jean-Marc Ayrault said, as cited by Reuters. "The more the European Union shows unity and determination, the more we can move forward in what is a moral obligation: to stop the massacre of the population of Aleppo."
It's not the right time for sanctions, according to Jean Asselborn, foreign minister of the meeting's host country.
"There are other means," he said. "The Americans and the Russians are again talking to each other." "The EU doesn't have a button that can press so that all this ends."
Last week, the Wall Street Journal reported that German Chancellor Angela Merkel's staff was considering new European Union economic sanctions on Russia, linking them to Moscow's support for the Syrian Army in its ground operation to liberate Islamist-held parts of Aleppo.
The report was dismissed later by the German Foreign Ministry, saying there is "no one, neither in Berlin nor anywhere else, who has such proposals."
"We've read that Germany is considering the idea of imposing new sanctions against Russia following the events in Syria, this is up to Germany. This is on the conscience of those who make assertions of what is going on in Syria," Russian Foreign Minister Sergey Lavrov told reporters last week.
Meanwhile, civilians in militants-controlled eastern Aleppo are in desperate need for food, water and sanitation. People there are effectively banned by terrorists from leaving the besieged area, in an apparent attempt to use non-combatants as human shields.
You can share this story on social media: