Did she just say that? Theresa May drops sexual innuendo, sends Parliament into fits of giggles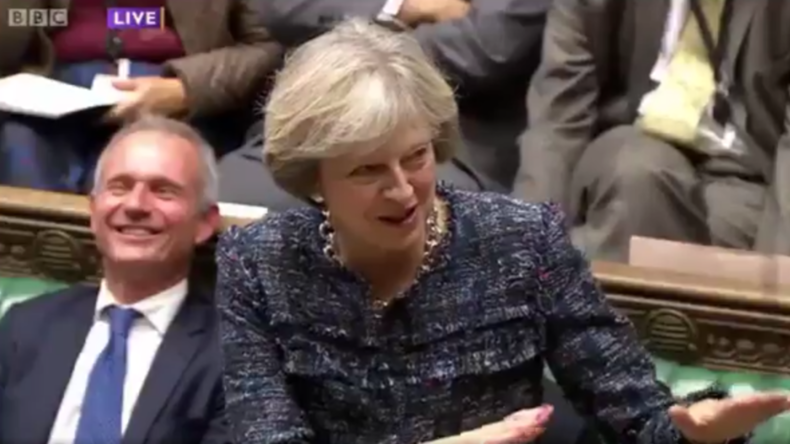 Theresa May proved she has a rather naughty side on Wednesday when the Tory PM surprised the House of Commons with a saucy joke aimed at one of her own MPs.
Euroskeptic Wellingborough MP Peter Bone opened his remarks during Prime Minister's Questions by saying it was his 64th birthday.
After thanking the PM for giving him "a huge birthday present by letting everyone know that we will be out of the European Union no later than March," Bone asked whether he could have another gift from May in the form of reopening Wellingborough Prison.
Quick as a flash, May took to the dispatch box and, after wishing Bone a happy birthday, quipped saucily: "I hope that Mrs Bone is going to treat the occasion in an appropriate manner."
The House was hit by fits of laughter and May momentarily broke into a cheeky grin. The viewing public, however, seemed to find the spectacle too embarrassing to watch.
"Just swallowed a bit of sick," said journalist Rupert Meyers.
"Theresa May made a birthday sex joke about Peter Bone. That's like your mum making a sex joke on your birthday in front of all your friends," another Twitter user added.
You can share this story on social media: