Despite slaughter at Yemen funeral, Middle East minister still justifies UK-Saudi arms sales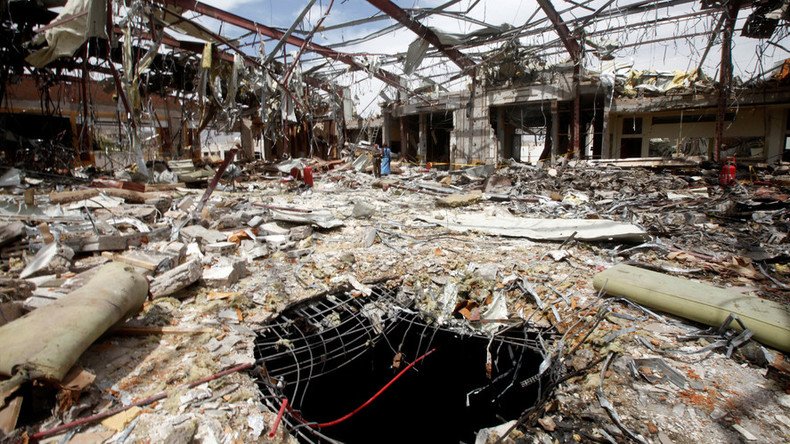 Britain's minister for the Middle East, Tobias Ellwood, has justified the UK's sale of arms to Saudi Arabia, saying the Saudi-led coalition is fighting a "legitimate war" in Yemen, despite making some "mistakes."
Britain has come under frequent criticism for continuing to supply arms to Saudi Arabia in the face of repeated atrocities in Yemen. The UK has made more than £3 billion ($3.6 billion) from arms sales since the military campaign began.
"We do sell arms to Saudi Arabia, this is a legitimate war that's taking place, endorsed by the UN resolution 2216," Ellwood told the BBC on Wednesday.
"It's important to recognize that Saudi Arabians have made mistakes, but they have also put their hand up to it."
Almost two weeks ago, the funeral of the father of a prominent Houthi leader was attacked in the Yemeni capital, Sanaa, killing 140 people and injuring 534. Witnesses say nothing was left at the site but "a lake of blood."
Rebel leaders accused the Saudi-led coalition of deliberately targeting the funeral.
Saudi Arabia initially denied responsibility for the bombings. However, over the weekend it admitted one of its warplanes had "wrongly targeted" the funeral gathering.
The inquiry team found: "Because of non-compliance with coalition rules of engagement and procedures, and the issuing of incorrect information, a coalition aircraft wrongly targeted the location, resulting in civilian deaths and injuries."
Ellwood said it's now thought the airstrike was a "deliberate error" made by an "individual." Riyadh had ordered for the attack not to take place, he said.
The individual who "breached" procedure would now be disciplined, he added, saying that compensation would be offered to the victims.
"I went to Riyadh last week to tell them that they need to come out with a report immediately, they did that, it was released on the weekend and they put their hand up and said this was a gross breach of standard operating procedure," Ellwood said.
"Somebody will now fall on their sword. We have disciplinary actions taking place, we also now have compensation coming to the victims."
Britain also assists Saudi Arabia in other ways. It has staff in control rooms advising the Saudi-led coalition bombing raids across Yemen, and provides essential diplomatic protection through the UN Security Council.
Saudi Arabia is bombing Yemen in an attempt to restore Abdrabbuh Mansour Hadi – the internationally-recognized Yemeni president who fled to Riyadh after he was chased out of his country by rebels from the northern Yemen Houthi movement.
The 19-month war has left more than 3 million people displaced. According to the UN, 14 million are suffering hunger and malnutrition – almost half the population.
Children are the worst hit, with hundreds of thousands at risk of starvation. More than 370,000 children are suffering severe malnutrition.
You can share this story on social media: