Exposed: 'Revolving door' between British govt and arms dealers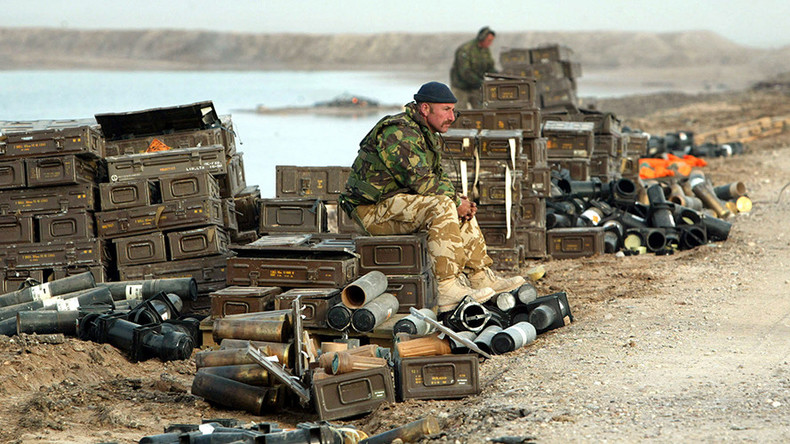 Peace campaigners have exposed the cozy relationship between the British government and the nation's arms dealers by publishing details of meetings between weapons manufacturers and public officials.
According to data analyzed by Campaign Against Arms Trade (CAAT), the Defence and Security Organization (DSO) has had more than 1,000 meetings with industry representatives since 2010.
CAAT now suggests there is a "revolving door" between the British government and arms & security industries.
The group highlighted the case of current Leicestershire police and crime commissioner, Baron Willy Bach, who moved from the Ministry of Defence (MoD) procurement department to the directorship of aerospace and cybersecurity firm Leonardo-Finmeccanica shortly after he left the government in 2005.
"The government may talk about the importance of human rights, but its role is absolutely central to the UK arms trade," CAAT spokesman Andrew Smith told the Guardian.
"[The DSO] is effectively a voice for arms companies at the heart of power."
Concerns over the government's relationship with arms dealers have grown after Britain's biggest weapons client and close ally Saudi Arabia launched an unprecedented military campaign against Yemen.
Thousands of Yemeni civilians, including children, have died in the conflict, which began in 2015.
The data collected by CAAT shows how Britain is now one of the world's largest exporters of weapons and defense technologies, exporting a whopping £8 billion ($10.4 billion) in 2015 alone. An estimated £3.3 billion came from Saudi coffers.
"There is nothing wrong with responsible trade in defense and security equipment which enables countries to defend themselves," said a spokeswoman for the Department for International Trade, under which the DSO now works.
"But we will not grant export licences that do not meet the standards set out in the consolidated EU and national arms export licensing criteria, which require us to think hard about the impact of providing equipment."