Home Office rules out forcing dental checks on child refugees to prove age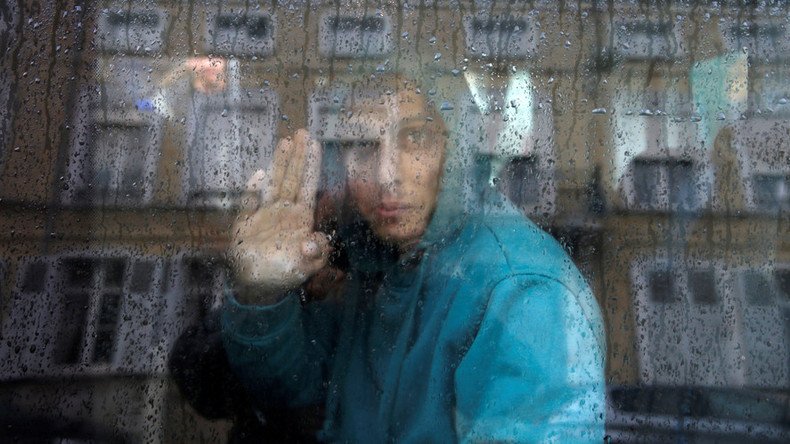 The Home Office has ruled out forcing young refugees arriving in Britain from the Calais 'Jungle' camp to have their teeth checked to determine their age, branding the idea "inaccurate, inappropriate and unethical".
Its statement comes after Tory MP David Davies said the child refugees arriving in the UK this week "don't look like children". He said they should undertake mandatory dental checks to verify their ages.
"We do not use dental x-rays to confirm the ages of those seeking asylum in the UK," a Home Office spokesperson told the Guardian.
"We work closely with the French authorities and their partner agencies to ensure all those who come to the UK from the camps in Calais are eligible under Dublin regulations."
The British Dental Association welcome the Home Office's position, earlier saying it is "vigorously opposed" to such checks, as it would be "inappropriate and unethical to take radiographs of people when there is no health benefit for them".
It asked the media to respect the privacy of these "vulnerable young people" and even stressed such dental tests cannot accurately determine age with certainty.
A spokesperson added: "X-rays taken for a clinically justified reason must not be used for another purpose without the patient's informed consent, without coercion and in full knowledge of how the radiograph will be used and by whom."
Doctors of the World UK called the idea "unethical and unnecessary," saying "healthcare workers are not border guards."
The controversy comes as new Home Office documents show nearly two-thirds of 'child' refugees who officials questioned about their real age were actually found to be adults in the year to September 2015.
Of the 590 asylum applicants who had their age disputed, 574 had an age assessment. Some 371 of those, or 65 percent, were found to be over 18.
Since 2011, there have been 11,121 asylum seekers involved in age disputes. Of those, 4,828 were found to have been adults, the documents show.
Images of some of the 14 refugees arriving in the UK on Monday to join relatives in the UK were splashed across British tabloids, with some headlines suggesting the migrants were lying about their ages.
David Davies, the MP for Monmouth and chairman of the Commons Welsh Affairs Select Committee, tweeted: "I hope British hospitality is not being abused."
Speaking to the BBC, he said one of the migrants had "lines around his eyes and looked older than I am," and that mandatory teeth checks are needed to reassure the public the UK is not being exploited.
"Currently government advice is that they need to give these people the benefit of the doubt and that needs to change," Davies said.
"When I went to Calais there were caravans with notices on how to get coaching on what to say if you need to get into Britain. So I am very concerned about this.
"I'm all for helping innocent children but it is completely ridiculous if we are just going to allow people in based on what they tell us."
He added: "If they are jumping on lorries, they are not going to be averse to lying about their ages. We should do the tests."
Davies' comments were also condemned by Labour MP Stella Creasy and attracted a huge backlash on social media.
Daily Mail plumbs new depths in its approach to child migrants. Relies on 'How Old Do I Look?' prog, but it thinks my 7-year-old is an adult pic.twitter.com/08bYYCYE0h

— CaoilfhionnGallagher (@caoilfhionnanna) October 19, 2016
The treatment by some towards these young refugees is hideously racist and utterly heartless. What's happening to our country?

— Gary Lineker (@GaryLineker) October 18, 2016
The Home Office has no way of independently verifying the age of child refugees being brought to the UK. It says if refugees do not have birth certificates, they "should be treated as an adult if their physical appearance/demeanor very strongly suggests that they are significantly over 18 years of age."
However, officials make clear that "all other applicants should be afforded the benefit of the doubt and treated as children."
French authorities are expected to empty the migrant camp in Calais in the coming weeks and dismantle it by the start of winter. The courts have rejected a request from aid groups to postpone the closure.
You can share this story on social media: