No UK plans for military force in Syria – PM May contradicts Johnson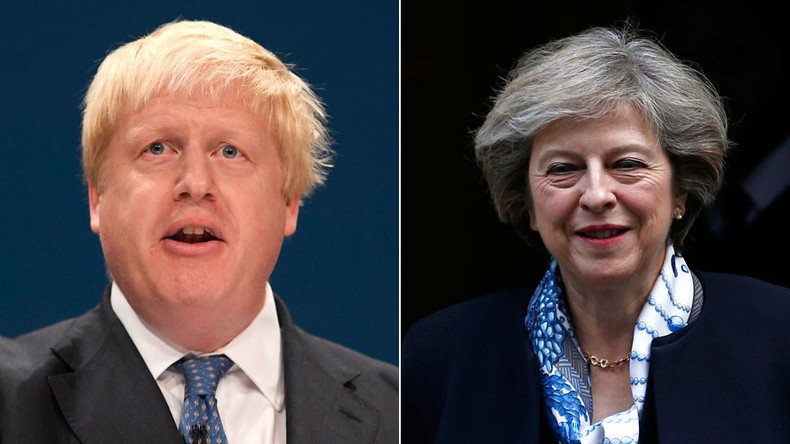 Britain is not planning to extend its military intervention in Syria, according to Prime Minister Theresa May's official spokeswoman, despite Foreign Secretary Boris Johnson telling the Foreign Affairs Committee the UK should consider more "kinetic action."
"There are no plans for military action. We are working with the international community to look at how to bring the conflict to an end," May's spokeswoman said when asked about Johnson's comments.
A range of options are available, she added.
The spokeswoman's comments contradict those of May's foreign secretary, who addressed the Foreign Affairs Committee early on Thursday.
"It is right now that we should be looking again at the more kinetic options, the military options," said Johnson.
"But we must be realistic about how these in fact work, and what is deliverable."
He said the West's future role in Syria would be discussed at high-level meetings this weekend.
Johnson added negotiations with Russia over the future of the Syrian crisis have "run out of road" and that the West should now consider engaging in more "kinetic action."
The foreign secretary envisions a future for Syria without President Bashar Assad and referred to the Saudi-backed coalition of rebel groups, known as the 'High Negotiation Committee' (HNC), as embodying "progressive" values.
During the hearing, Johnson made the strongest indication yet that Britain and its allies are considering a military intervention in the Syrian crisis.
"On Sunday I'm calling a meeting of fellow foreign ministers… to discuss how we're going to proceed, not just in Syria, but in Iraq as well. Obviously it's good that things are happening again in Geneva, but most people feel the process of discussion with the Russians has basically run out of road," he said.
"On Sunday we'll be talking about all the options we think are available to us and the West.
"Most people, I think, are now changing their minds about [intervention]. They're thinking we can't let this go on forever… Whether that means we can get a coalition together for more kinetic action now, I cannot prophesize. Certainly people want to see a new set of options."
He added that such military options are still "a long day's march" away and would be dependent on the US.
The foreign secretary referred to a Sky Data survey published on Thursday which indicates 46 percent of the British public support military intervention in Syria and 53 percent think the UK has a responsibility to protect Syrians.
Some 37 percent polled did not support military action, while 17 percent expressed no preference.
Johnson expressed regret for the British Parliament voting against military intervention in Syria in 2013, describing it as a "big step backwards."
"We vacated the space that has been occupied by the Russians. Our options now are on the humanitarian front."
While Johnson told MPs the UK must continue to be "very, very tough" with Russia, he said it is wrong to compare the present situation to a new Cold War and explained that London does not want "endless confrontation" with Moscow.
The secretary even confessed to being a Russophile and described how he visited the country when he was 16.
Russia and the UK must work together more, particularly in the fight against terrorism, he said.
Russian presidential spokesman Dmitry Peskov said that the Kremlin cannot yet offer any assessment of Johnson's comments, as it's necessary to find out the motives and reasons for a possible military intervention by the UK to address the situation in Syria.
"For what purpose [would the UK intervene militarily in Syria]? We should probably wait until all these points are clarified. Efforts of any states in the fight against terrorism are worthy of the highest praise, but if those efforts are designed to fight the legitimate authorities of the country, they are unlikely worthy of praise," Peskov told reporters.
"Without accurate information about the motives, plans and intentions, it's hard to give some kind of assessment," he added.
You can share this story on social media: