Shaming firms for hiring foreign workers 'lowest point in immigration debate'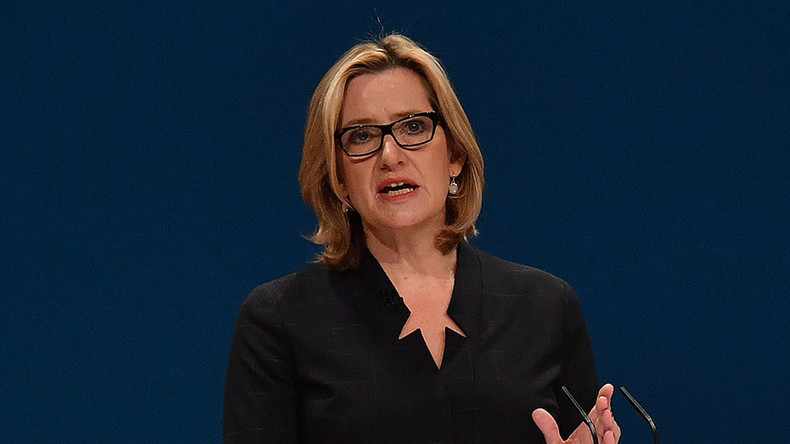 Tory Home Secretary Amber Rudd has been forced to backtrack on her pledge to "name and shame" companies that hire foreign workers after the threat provoked a backlash in the business community.
Rudd's speech to Conservative Party conference delegates on Tuesday afternoon left business leaders aghast, with the head of the British Chamber of Commerce, Adam Marshall, calling the policy a "badge of shame" for companies grappling with the UK's dearth of skilled labor.
Among a raft of tough new immigration policies, Rudd proposed to "tighten the test companies have to take before recruiting from abroad."
"The test should ensure people coming here are filling gaps in the labour market, not taking jobs British people could do. So I want us to look again at whether our immigration system provides the right incentives for businesses to invest in British workers," she said.
Her words echoed those of former Labour Prime Minister Gordon Brown, whose motto "British jobs for British workers" was criticized by Tories, who said it could risk inciting far-right groups.
Companies already have to pass a "resident labour market test," which includes advertising for a job twice before hiring someone who is not a permanent resident of Britain.
Labour's shadow home secretary Andy Burnham described the tone of the Tory conference as "increasingly xenophobic."
"Theresa May has presided over the return of the Nasty Party," the MP added.
"The idea of British companies producing lists of foreign workers runs counter to everything that this country has ever stood for. It would be divisive, discriminatory and risks creating real hostility in workplaces and communities."
The Green Party issued a statement describing May's premiership as welcoming "the most toxic rhetoric on immigration we have seen from any government in living memory."
Politics.co.uk deputy editor Adam Bienkov branded Rudd's speech the "lowest point yet in our current immigration debate."
The Home Secretary has since distanced herself from her remarks, telling BBC Radio 4's Today program that scrutinizing companies that employ foreign workers is "not something we're definitely going to do."
However, according to her speech, the Home Office clampdown on immigration will not stop at auditing businesses. Rudd hopes to also change rules concerning foreign students attending British universities that would prevent them from staying in the UK after graduation. Current rules see overseas students fast-tracked through the immigration process and receiving Tier 4 visas – one of the lowest ranks in the British points-based system.
Researchers and academics believe the policy would discourage scientific talent from coming to work in Britain and deter innovation.
Astronomer Royal Martin Rees told BBC2 Newsnight: "In the last 10 or 20 years the gradient was positive, but all that could be lost by the perception of what is happening now."
He warned that people like David Thouless, Duncan Haldane and Michael Kosterlitz, a British Nobel prize-winning team of physicists, would opt to work in other countries if these "deplorable" policies prevail.
"Two things will happen: First, outstanding foreigners won't want to come and work here," he said.
"People who are working here will feel that they do better abroad and, of course, young people will feel that science is not a career where they can do the best work in this country and they won't go into science."
British workers already HAVE British jobs. The employment rate for UK nationals is the highest since at least '97 (as far back as data goes) pic.twitter.com/ZFhzZaksIO

— Sarah O'Connor (@sarahoconnor_) October 5, 2016
University College Union (UCU) general secretary Sally Hunt argued the policy "equates to pulling up the drawbridge and sending a message that the UK is closed for business."
You can share this story on social media: