'Smash a p**i' video shows schoolboys kicking, punching Asian boy in racist attack (VIDEO)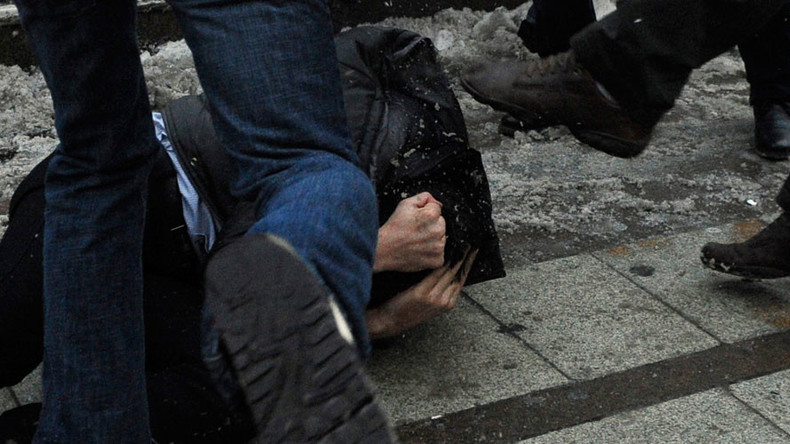 Two 13-year-olds in Scotland who allegedly beat up another schoolboy because of his race and then uploaded a video of the attack to social media with the caption "Smash a p*ki" have been arrested.
Police say they are treating the assault in Edinburgh as a hate crime.
The video shows one of the attackers punching the boy as he tries to escape. The victim is repeatedly punched in the head before a second boy runs in to drag him to the ground.
The victim can be heard begging "leave me, please, please, please" as he tries to protect his head.
The two teenagers, who are dressed in school uniform, continue to kick and punch the victim while other boys stand around jeering.
Laughter is heard in the background and a bystander can be heard saying the attack is "funny as f***."
The attackers are believed to have trapped the victim on a path in a wooded area in the Drum Brae part of Edinburgh.
The victim had to go to hospital after the beating.
"A 13-year-old boy attended Edinburgh Royal Infirmary with minor injuries," police told the Daily Record.
"Two boys, both 13, were charged in connection with this. Inquiries are ongoing in relation to a social media post connected to this incident."
The original video, posted to Twitter by a 14-year-old who watched the assault, has been deleted.
But in a bid to shame the group of boys, another Twitter user has since reposted the clip, branding the attackers "scum."
You can share this story on social media: