Windscreen-smashing London cop now faces official probe (VIDEO)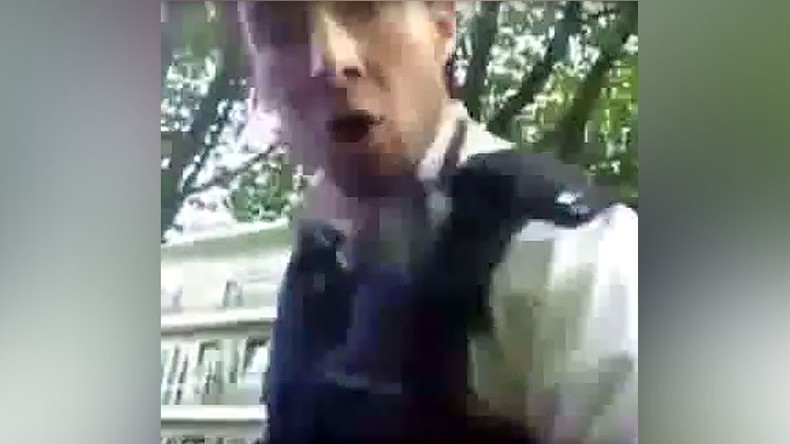 A London policeman caught on camera smashing a windscreen and sawing it open with a penknife after the driver refused to get out of the car is facing an investigation by the Metropolitan Police.
Footage of the incident, which took place over the weekend in Camden, north London, shows a police officer grabbing hold of an open window and attempting to pull the door open before asking the man to get out three times.
The policeman then tells the driver: "You're not allowed to drive it," before swinging what appears to be a baton at the car four times.
The man inside the car replies: "I've got a license. I've got a license, I've got insurance."
He adds: "You're smashing this for no reason. Look, look what they are doing to my car. What's the problem officer, why ain't [sic] I allowed to drive the car?"
The officer replies: "You're disqualified. You're not allowed to drive," and then pulls out what appears to be a penknife and begins sawing at a hole made in the glass by his earlier baton blows.
As the camera keeps on rolling, the driver gets out and is approached by another police officer who orders him back into the car as the driver says: "I'm not TJ, I'm not TJ."
He tells the officers he is filming and says: "Do you know what you just done?" to which the officer replies: "I've done absolutely nothing, I just need to know who you are."
As the footage ends, the driver tells the police his name is Leon, to which the officer responds: "Leon, that's it. I've not seen you in a long time, fella."
Read more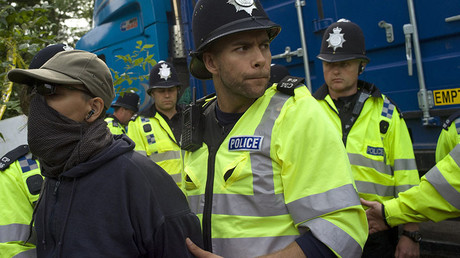 The driver has since said the incident was a case of "mistaken identity" and says the way the officer behaved was "completely unlawful."
Leon Fontana, the 25-year-old man who says he was the driver and filmed the footage, told the Daily Mail he had spent the evening in hospital after getting glass in his eyes.
"Every time he smashed the glass, fragments of glass were just ricocheting in my face."
The Met Police say neither officer has been suspended or put on restricted duties at this point, but that a probe into the incident is underway.
"The Metropolitan Police Service is aware of footage circulating on social media of an incident involving two uniformed officers in Camden," it said in a statement.
"The footage will now be subject to an investigation by officers from the Directorate of Professional Standards (DPS).
"As soon as the MPS was made aware of the footage, the DPS was contacted immediately."
The DPS is the Met's investigative arm dealing with complaints about professional conduct of officers. It has the power to suspend or limit an officer's duties while under investigation.