Transgender soldier becomes UK's first female combat officer
Published time: 17 Sep, 2016 12:33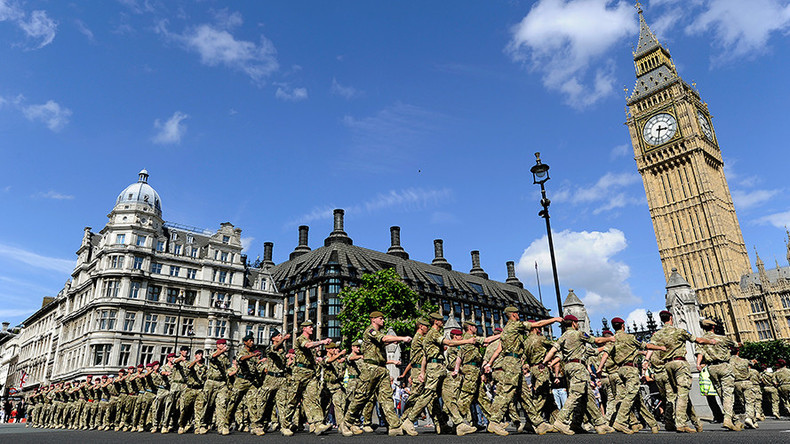 A transgender soldier made history, becoming the British Army's first woman to be a front-line soldier. Formerly Ben, and now Chloe Allen, she follows in the footsteps of Captain Hannah Winterbourne – the first transgender officer.
Chloe, 24, from Cumbria, joined up in 2012 as Ben, serving the 1st Battalion of the Scots Guards. She has only been undergoing sex-change therapy for a month, but that already sets the record held for over 350 years since the British Army's founding in 1660.
"It is a great honor to be able to make history and at the same time do my job, it's just brilliant, I'm just looked at as a normal person," Chloe told The Sun. "I'd love to inspire people to just come out and be themselves, as much as it's a big bad world, it's not as bad as what people think it is, and it's easier when you've got your mates and your bosses behind you."
The Guardsman does not attribute the change to any desire to become an ambassador. "I didn't set out to make history, it's just the way it's happened," she added. "There's nothing that can stop me at all, this is not just a job, this is a career for me."
And it all started quite accidentally. Allen was caught cross-dressing by a fellow soldier, and decided that it would be too complicated to hold back her desire for change much longer.
Allen remembers the morning when it happened. She was very worried about the backlash.
"I went down to muster parade in the morning for PT [physical training] and it was just mainly banter, just having a laugh," Allen said. "The whole sort of worry that I had, I shouldn't have even worried. The entire battalion's been brilliant."
Thankfully, the transition was not as difficult as some in the world may think. If anything, holding it in since the age of eight had been the tough part.
READ MORE: Chelsea Manning ends hunger strike after military grants gender transition surgery
The success of Allen joining others as a front-line soldier can also be attributed to recent political developments. In July, former Prime Minister David Cameron had accepted the recommendation from head of the army, General Sir Nick Carter, that women should join men in combat roles.
The opening up of Allen has been universally well-received, with many expressing pride that the British Armed Forces has become such an inclusive place.
"There's nothing that can stop me at all, this is not just a job, this is a career for me," Allen said.
Two years ago, Captain Hannah Winterbourne of the Royal Electrical and Mechanical Engineers, became the first openly transgender person in the British Army.