Alleged scamming HBOS bankers linked to £35 million fraud, finally on trial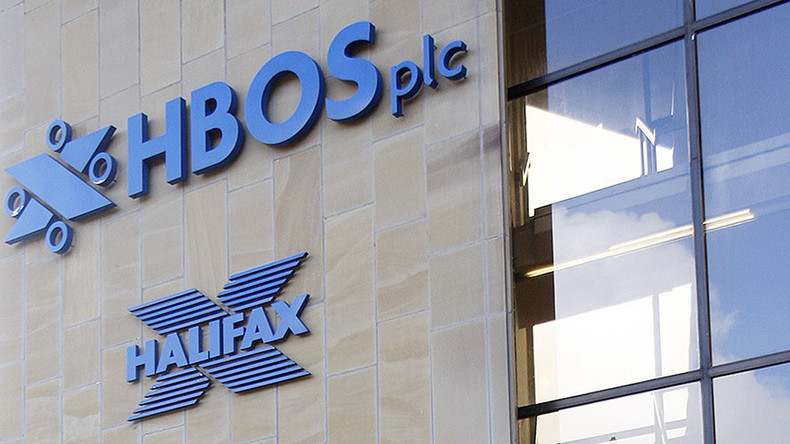 The first trial for bankers suspected of being partly responsible for the 2008 banking crisis has begun in London, after the £35 million ($46.5 million) alleged scam case was postponed for nearly two years.
Six people are in the dock at Southwark Crown Court in London this Monday, including former HBOS bank manager Mark Dobson, who stands accused of engaging in fraudulent behavior at the expense of the company's small business customers.
Those charged also include bankers David Mills and Michael Bancroft, as well as their wives, who are accused of giving money and "numerous high-value gifts" to HBOS managers in exchange for favors.
Dobson worked from HBOS' Reading branch, assigning his small business clients to David Mills' Quayside Corporate Services, a "turnaround consultancy," between 2002 and 2009. The bank would allegedly loan money to companies that had no way of paying it back, with most of the funds reportedly being "syphoned" off to Quayside through a series of high fees.
Mills and Bancroft's wives stand accused of helping the men disguise the fraud proceeds by laundering it in shopping sprees, worldwide travel and, in the Mills's case, an 100-foot luxury yacht docked in the Mediterranean.
"Eight years after the collapse of HBOS, the first senior bankers to face criminal trial over banking fraud and management failures which led to the 2008 crash take to the witness stand," ethical banking campaigner Joel Benjamin from Move Your Money told RT.
"Authorities must reflect on the unacceptable delays associated with bringing banking fraud before a jury, and the personal toll this exacts on victims, whose lives are still in limbo seeking justice and compensation decades after alleged crimes were committed," he added.
The alleged scam was exposed by Thames Valley Police after a two year investigation codenamed Operation Hornet. The suspects were arrested in 2010 and charged in 2013. The trial was scheduled to begin in January of 2015, but was then postponed to earlier this year, and is finally beginning only now. The list of charges includes fraudulent trading, money laundering, conspiracy to corrupt, and blackmail.
Benjamin added: "the reason the alleged HBOS Reading fraud has taken so long to get before a jury is farcical and reflects the long-standing inability of UK authorities, namely the Financial Services Authority (and its successor the FCA) and the Serious Fraud Office to investigate and prosecute white collar banking fraud in this country."
A large queue formed outside Southwark Crown Court on Monday, with the public keen on following the fates of the accused. Among them was Nikki Turner, whose music publishing business, Zenith Cafe, met a premature end, allegedly because of Quayside's poor advice. Her mortgage, which was also with HBOS, ended up being foreclosed on.
HBOS collapsed in 2008 and was bought by state-backed Lloyds TSB. Its one-time head of corporate lending, Peter Cummings, was fined £500,000 and banned from the banking industry.
Law makes bosses responsible for employees' fraud
New plans that would see company chiefs held responsible for their employees' crimes are to be put forward by the Government this week.
According to The Times, the new legislation would hold employers criminally liable for their staff in cases of false accounting, money laundering, and fraud. It's hoped that the measure will force bosses to do more to keep track of their employees' activities and prevent wrongdoing.
"When considering the question 'where does the buck stop?' and who is responsible for economic crime, it is clear that the answer is to be found at every level, from the boardroom down," Attorney General Jeremy Wight recently said in a public address on economic crime. "Both corporations and individuals are responsible."
"The intention of the Government actions I have described is not only to prosecute and to fine for breaches of the law, but to promote a culture of corporate responsibility so that we are addressing the threat earlier on and not just reacting to it through investigation and prosecution. A change in culture is something that will take time but the results, as we are already starting to see, will be worth the effort," he said.
You can share this story on social media: