'Sharon Stone moment' by Tory MP caught on camera during Theresa May's Questions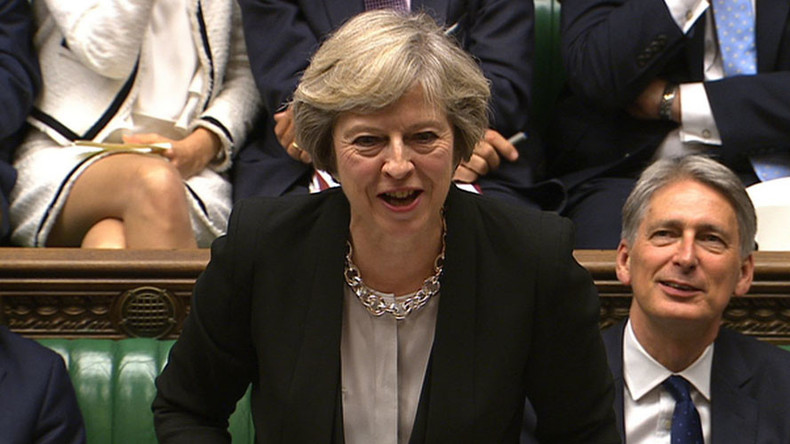 An unfortunate camera angle during this week's grilling of UK Prime Minister Theresa May caught one of her Conservative colleagues crossing her legs in a moment many have compared to the film "Basic Instinct."
While sitting behind the Prime Minister in the House of Commons, Lucy Frazer, MP for South East Cambridgeshire, unknowingly impersonated Sharon Stone's most infamous character and showed the world more than she wanted.

I say, was there really a 'Basic Instinct' moment from Lucy Frazer, seated behind PM during Theresa May's opening praise of Olympians? #PMQs

— Robert Adam (@robertadam19) September 7, 2016
@daily_politics I wondered who was wearing the very short skirt behind the PM. None other than my MP, Lucy Frazer!

— Ian Faulkner (@IanFaulkner3) September 7, 2016
Frazer later asked a question, but the 44-year-old mother of two hasn't reacted to the unexpected attention.

One Twitter user, however, did call out the "up-skirt" coverage from the media as "grim."
The DM. posting up-skirt pictures of an MP during PMQs and likening it to a "Sharon Stone" moment is pretty bloody grim.

— Katie Paddock (@KatiePaddockPhD) September 8, 2016
The scene from the movie Basic Instinct, which we'll let you find online rather than embed it here, occurs during an interrogation by police.
Stone claimed in 2006 that she was not aware of the close-up until a test screening and said she slapped the film's director.
But there's been no word on whether Willy on "The Simpsons" was aware of his up-kilt shot.