Fabric shut over drug deaths that also taint London's luxury hotels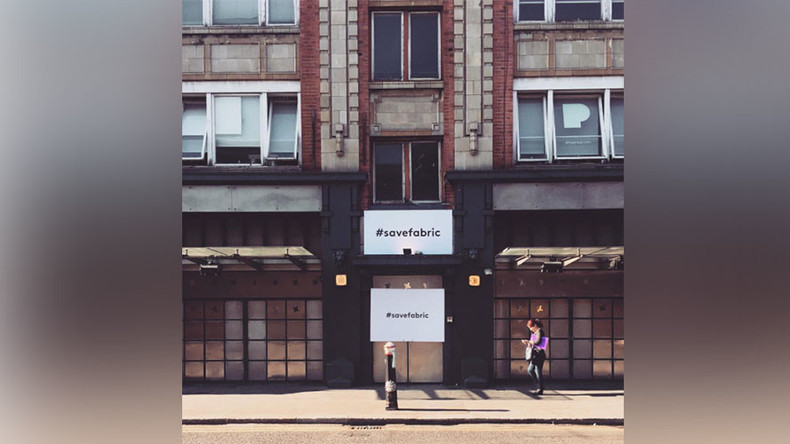 One of London's iconic dance venues has been shut down because of a "culture of drug use," infuriating music's biggest names and clubbers witnessing the veritable collapse of the capital's nightlife.
But angry questions have been raised over Fabric's closure when the same logic has not been applied to other premises where drug abuse has been discovered.
Aggrieved clubbers say closing the popular night spot is deflecting attention from the wider drug problem and the lack of police control over it.
Illegal drug use has been linked to deaths at a number of well-known venues and premises across London, including at two luxury hotels last year.
In May, a 38-year-old Kuwaiti man was found dead in the luxury £500-£4,900 a night Dorchester Hotel. The hotel guest had reportedly taken part in a "cocaine fueled binge," and drugs were found beside his body in his hotel room, according to the Telegraph.
In July 2015, a 29-year-old business consultant was found dead at a Hilton Hotel on Upper Street after taking drugs.
Evidence of illegal drug use has even been uncovered at the Houses of Parliament. An undercover investigation by The Sun found evidence of "widespread drug use" in Westminster in 2013 and concluded that cocaine was "regularly being snorted at both the Commons and the Lords."
Chairperson of the Night Time Industries Association, Alan D Miller,says forcing Fabric to close is a prime example of a "knee-jerk" reaction, severely punishing a "well run" venue.
Fabric was reportedly regarded as a "beacon of best practice" by a judge this year.
Writing in the International Business Times, Miller acknowledged that a significant number of people now consume recreational drugs. However, he argued that Fabric, like many other clubs, is a victim of crime and not a supporter of it.
"Indeed, if people keel over on public transport nobody argues for the operators to be closed down. The same can be said of the outlook to jewelry heists or violence at shopping centers for example - they are (quite correctly) treated as crimes against the venues and not committed by them," he wrote.
Others have hit out at what they believe is a misguided decision to shut Fabric down, including the club's owners.
"Closing Fabric is not the answer to the drug-related problems clubs like ours are working to prevent, and sets a troubling precedent for the future of London's night time economy," Fabric management said in release to the media.
Since opening in 1999, the club which shares a neighborhood with the Museum of London, has provided a thumping soundtrack for the capital's late night revellers and hosted more than 5,000 artists.
On Wednesday local authorities decided to permanently revoke the club's license. The closure follows the second Metropolitan Police review of Fabric in two years, and deaths of two 18-year-old men after reportedly taking the psychoactive drug MDMA on the premises this summer.
In a statement prior to the forced shutdown, Fabric management said they were "extremely saddened" by the deaths: "We hope to work constructively with the police and the London Borough of Islington to ensure that, in providing the safest possible environment for music lovers, we continue to operate nearly two decades as a leading part of the London club scene."
Though London's Metropolitan Police initiated the move against Fabric, Islington Borough Council took the decision to close the premises.
"A culture of drug use exists at the club which the existing management and security appears incapable of controlling," a spokesperson from Islington Council said.
"The problems seen during the 2014 review of Fabric's license have not been adequately addressed, which has resulted in further tragedy and crime."
At a meeting on Tuesday night, the council concluded that staff intervention was "grossly inadequate" in the face of "overwhelming evidence" that patrons were taking illegal substances. According to the council, evidence of drug taking included symptoms such as "sweating, glazed red eyes, staring into space, and people asking for help."
The council's description resembles a report by a plainclothes police officer who visited the Charterhouse Street venue on July 2 as part of Operation Lenor.
The council's decision provoked a flood of outrage online, with more than 150,000 people signing a Change.org petition.
London Mayor, Sidique Khan, has even been drawn into the affair having previously promised to protect "music venues, gay bars and historic pubs" during his election campaign.
"I don't want young and creative Londoners abandoning our city to head to Amsterdam, to Berlin, to Prague where clubs are supported and allowed to flourish," he told Dazed in April.
"I want them to be able to celebrate what they love in the city that they love, rather than punish them or force their activities underground or abroad."
On Wednesday Khan expressed his disappointment when agreement to keep the club open could not be reached.
Furious artists have been more vocal in their response to the closure.
Paul Rose, who performs under the name Scuba, was due to play Fabric on October 22. He blasted the shutdown notice as nothing to do with safety and implied it could be linked to a £200m redevelopment project involving the Museum of London at the nearby Smithfield Market. And he is not alone.
The nearby Museum of London has since expressed its support for Fabric, saying the city would be "poorer" without it. "Fabric is as much part of Smithfield as the meat market and the hospital, and, in the future we hope, a museum," it read.
"Our aspiration has been to work with Fabric, and other Smithfield businesses, so that Smithfield can continue to be a 24 hour destination."