Amputee builds himself Lego leg while waiting for prosthetic limb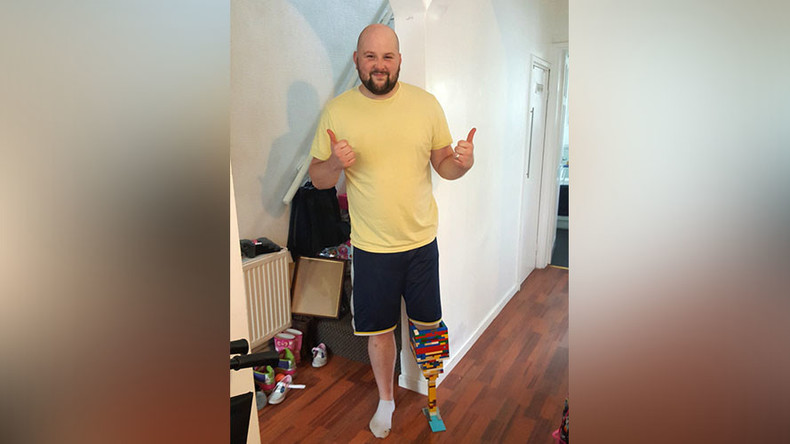 A diabetic amputee who built himself a Lego leg while waiting for a new prosthetic limb on the NHS says he wants to raise awareness about diabetes.
Matt Cronin proudly posted a photo of his new lower leg onto Reddit with the caption: "Built myself a lego leg while I wait for my real one to be built."
Cronin, from Oldbury, has become an internet sensation after the photo of his genius innovation went viral.
The 32-year-old father lost his leg after being diagnosed with diabetes and thought creating his own prosthetic would be "fun."
"I decided to build a Lego leg because me, my wife Lianne and my daughter Alice were playing with the Lego and it seemed like a fun idea," he told the Telegraph.
"I'm quite new to the whole amputation process and at the rehabilitation centre I go to there are a lot of guys just getting their legs. So I thought, why can't I have one now?"
He said he can't walk on the new leg, but his family have found a good use for it.
"I can stand on it but I can't walk on it. I didn't glue it together because I didn't want to ruin my daughter's Lego. It is currently standing in the corner of the living room like a piece of art."
Cronin was diagnosed with Type 2 diabetes and had his toes amputated in 2014 due to a diabetic ulcer.
He told the Telegraph his doctor said to him he was left undiagnosed for 10 years, adding that he wished he had been referred to a diabetic food clinic sooner.
He now has insulin injections to help keep his diabetes under control.
"I am disappointed my diabetes wasn't diagnosed sooner but I don't let it get to me. There are a lot worse things I could have which is why I stay positive," he added.
"If someone reads this and they think they might have diabetes that's great, the sooner you know, the sooner you can start getting it under control.
"Diabetes is a horrible thing to have and I didn't realize just how serious it could be, but if you eat well, exercise and control it, you won't have any problems."