4mn-strong petition forces MPs to debate 2nd Brexit referendum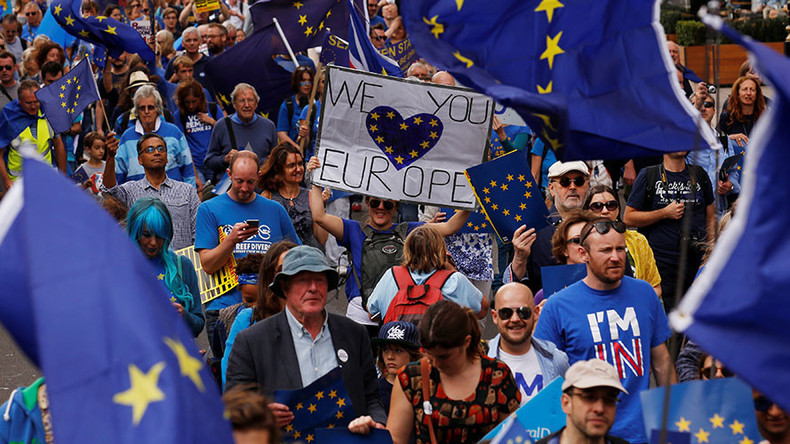 MPs will debate calls for a second referendum on EU membership after a petition calling for a rerun of the vote amassed more than 4 million signatures—more than any other e-petition in the last five years.
The document calls on the government to hold a re-vote, citing the Leave campaign's failure to win more than 60 percent of the ballots and noting that turnout was below 75 percent.
Parliament is obliged to debate any petition that garners more than 100,000 signatures.
The e-petition was launched in May, before the June 23 referendum, ironically by a Leave supporter who was worried Britons would vote to Remain by a narrow margin and low turnout.
Oliver Healey, the man who started the petition, now believes it has been "hijacked" by Remain supporters.
The House of Commons petitions committee has launched an investigation into claims that tens of thousands of names had been added to the document fraudulently.
Parliament will debate the petition on Monday, the first day MPs return from their summer recess.
A government spokesperson said the vote to leave the bloc must be respected as the UK prepares for Brexit. Under rules agreed to by Parliament, the referendum result cannot be changed retroactively.
"The referendum was one of the biggest democratic exercises in British history with over 33 million people having their say," the Foreign Office said.
"The government have [sic] been clear that this was a once-in-a-generation vote and the decision must be respected."
Prime Minister Theresa May has repeatedly ruled out a second referendum. She is expected to trigger Article 50 in early 2017.
May used the G20 summit this weekend to reaffirm her commitment to making a success of Brexit, while critics accused her of backsliding on some of the Leave campaign's key promises.
May has said she is prepared to block Foreign Secretary Boris Johnson's plans for an Australian-style points-based immigration system, arguing that there was no evidence the plan would actually work in Britain.
The PM has also refused to commit to a host of other key Leave promises including an extra £100 million (US$133 million) per week for the National Health Service (NHS) or a cut in VAT on energy bills.
During the summit in China, May reiterated her commitment to an "outward looking" economy.
May and her Australian counterpart Malcolm Turnbull promised a "very strong" free trade agreement between the two countries.
"Britain's made a very momentous and historic choice to leave the European Union and we have already been engaged in discussions with you about what the free trade arrangements may look like after that.
"Australia is determined to provide Britain with all the support and assistance that we can," Turnbull said.