What will Brexit look like? Even Theresa May's own ministers can't agree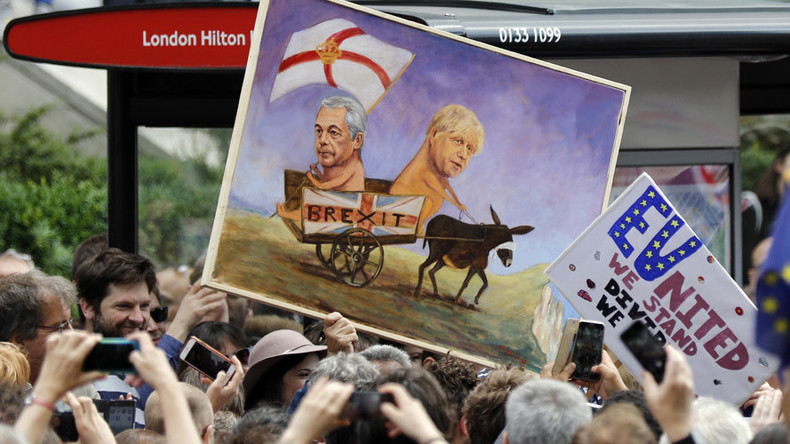 Brexit planning was off to a confused start on Wednesday when Prime Minister Theresa May assembled her cabinet team at Chequers, the PM's official country residence, to 'brainstorm' the EU divorce.
Senior ministers are discussing a department-by-department plan of action for the coming months, but there appears to be a debilitating lack of consensus among the cabinet.
"We must continue to be very clear that Brexit means Brexit, that we're going to make a success of it," May said while opening the meeting at the Buckinghamshire estate.
"That means there's no second referendum, no attempts to sort of stay in the EU by the back door, that we're actually going to deliver on this."
She ended with the words: "Can I just remind everybody that this really is a very significant moment for the country, as we look ahead to the next steps that we need to take? We have the opportunity to forge a new positive role for the UK in the world, to make sure that we are that government and country that works for everyone – that everyone can share in the country's prosperity."
The unusual cabinet meeting raised plenty of Westminster eyebrows, with the Scottish National Party (SNP) European Affairs spokesman accusing May's regime of "breathtaking complacency."
Commenting on the Brexit brainstorm, Stephen Gethins said: "It is over two months since the result of the Brexit referendum and ministers are only now being asked to come up with their ideas about how it might work at a 'country house away day.' This is breathtaking complacency from a government that got us all into this mess in the first place."
Theresa May:
11 July: no 2nd ref. Brexit means Brexit.
13 July: no 2nd ref. Brexit means Brexit.
31 Aug: no 2nd ref. Brexit means Brexit.

— James Ball (@jamesrbuk) August 31, 2016
Live footage from Chequers looks as gruesome as any hideous office meeting I've attended in the past.

— Simon Barraclough (@EssBarraclough) August 31, 2016
Live at #Chequers today. Crusty stiff out of touch leaders/cronies debate what #Brexit actually means. As no-one really knows. Says it all😖

— Michael Livingstone (@Livingstone_UK) August 31, 2016
According to insiders, May is likely to trigger Article 50 of the Lisbon Treaty – which would formally initiate Britain's departure from the bloc – without the approval of Parliament. Exit negotiations would take two years.
A Downing Street spokesman insisted that although opportunity would be given for MPs to comment on the process, May is under "no legal obligation" to consult the House of Commons before invoking the article.
While May hopes to use her "day away" at Chequers to demonstrate Tory unity, especially in light of the Labour Party's internal fissures, her own members seem intent on squabbling publicly over Brexit.
Brexit's main architects, Boris Johnson, Liam Fox and David Davis, have been locked in a puerile public feud. Now, former small business minister Anna Soubry has joined the fray, telling the BBC Radio 4 Today program: "The three Brexiteers ... are the ones who have to show us what progress they have made, what Brexit is beginning to look like, what successes or failures or difficulties they have had.
"It is for the Brexiteers now to deliver for the British people because they have spoken, we are going to leave the European Union, we now need to know what that looks like."
The 'Remain' campaigner added: "For me, the priorities are first of all access to the single market. It is absolutely critical for British business, and that means for the benefit of people across the United Kingdom, that our country still has access to that single market. Access to the single market, free of tariffs, free of custom duties."
She added that free movement of goods, services and people should continue in a post-Brexit scenario.
Her fellow Conservative Lord Lawson, however, argued that people who voted for Brexit "voted in part, but an important part, to abandon, to get away from, the doctrine of the free movement of people."
The former chancellor said the government should no longer "waste time trying to negotiate elaborately" and invoke Article 50 immediately.