Putin & Theresa May meet for first time, hope to 'resume dialogue'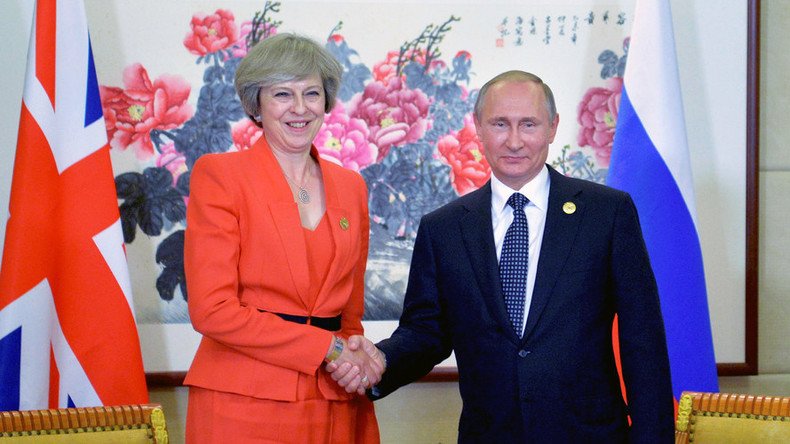 Russian President Vladimir Putin has met with the new UK Prime Minister Theresa May for the first time. The meeting came on the sidelines of the G20 summit in China.
Speaking at the start of her discussion with the Russian leader in Hangzhou on Sunday, May said that although there were "differences" that concerned her regarding the policies of the two countries, she hoped they could be resolved through dialogue.
"While I recognize there will be some differences between us, there are some complex and serious areas of concern and issues to discuss, I hope we will be able to have a frank and open relationship and dialogue," the British PM said.
Putin also expressed hope that the relations between the two nations could be improved, and said he was pleased to meet the new PM in person.
"[We] hope that we will be able to bring our bilateral relations to a higher level than they are at today," he said, while also wishing "success" to the new PM's team in dealing with the "difficult tasks" they face, in apparent reference to Brexit.
At the meeting, Putin and May then discussed a number of issues, including those of international security and solutions to the Syrian crisis, as well as drug trafficking, Russian Economy Minister Aleksey Ulyukaev, who was also present during the discussion, told reporters.
"They have searched for common ground on where the dialogue could be resumed," the Russian minister said.
The two sides also touched upon aviation security issues, according to Ulyukaev, who said that following the meeting a delegation from the British Transport Ministry is expected in Moscow soon for further talks on the matter. Previously, Britain has complained that Russian fighter jets have come close to British air space more frequently.
READ MORE: Typhoon fighters scrambled to intercept Russian bombers heading to UK airspace
"Putin sent a clear and definite signal that we are interested in rebuilding our relations, in resuming the dialogue in all fields, including the most sensitive," the Russian leader's spokesman, Dmitry Peskov, commented after the meeting.
Downing Street has said it is in London's interest to cooperate with Russia, especially on security issues, TASS reported.
You can share this story on social media: