Food shortages hit Calais 'Jungle' camp as UK urged to accept 400 children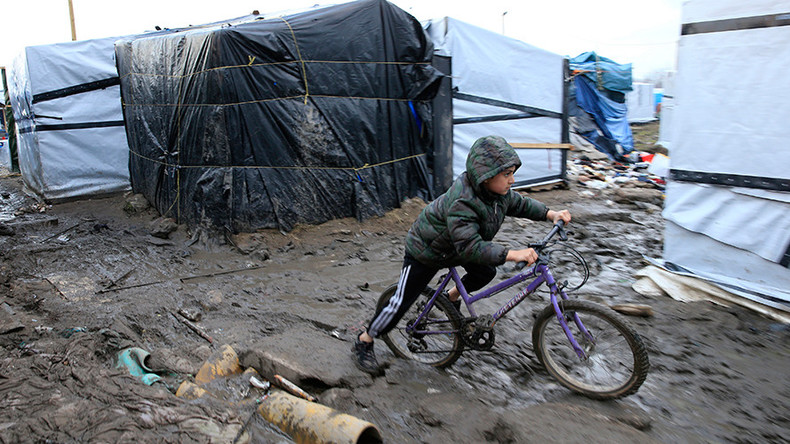 Campaigners are urging the British home secretary to take in 400 refugee children living in the Calais 'Jungle' camp at a time when food shortages are forcing many migrants to go hungry.
Religious leaders, politicians and celebrities, including actor Jude Law, are calling on the government to offer the children asylum. Many of them claim to have family already in the UK.
A special ceremony will be held outside the Home Office on Friday commemorating the children who have died during the refugee crisis.
It comes one year after images of Alan Kurdi, a three-year-old Syrian boy whose body was washed up on a Turkish beach, shocked the world.
Kurdi's mother and brother also drowned when their inflatable raft capsized en route to Europe.
According to the Missing Migrants Project, 3,171 migrants and refugees have died in the Mediterranean Sea this year alone – a figure which makes up 75 percent of all migrant deaths in the world.
More than 10,000 migrants have perished in the Mediterranean since January 2014.
As part of Friday's memorial, campaigners are urging the Home Office to allow 387 children currently living in Calais to enter Britain, because they are either vulnerable or have family in the UK.
In Calais, refugee charities are warning of food shortages as a result of "donor fatigue."
Volunteer Marie Eisendick, who helps run the community kitchen with support from HelpRefugees, said they started running out of food three weeks ago.
"A few months ago, there would be a maximum of 70 people in the lines; now we have 500 people queuing," she said.
Lord Dubbs, who himself came to Britain as a child refugee fleeing Nazi persecution, told the BBC the prime minister must act now.
"Even 17-year-olds who've been traumatized by war and had their parents killed in front of them in say Syria, they're pretty vulnerable. They also need help.
"It happens that there are more boys than girls, but I don't think that's the issue. Even the boys are pretty vulnerable. And they're liable to be taken into trafficking, into criminality and so on.
"For young people, say 15 or 16, to be sleeping rough, with nobody to look after them, is a pretty hazardous thing, and they're in danger."
A Home Office spokeswoman said: "We continue to work closely with the French government to ensure that children in Calais with family links in the UK are identified, receive sufficient support, and can access the Dublin family reunification process without delay."
You can share this story on social media: