Ritual or racism? Folk festival bans Morris dancers from 'blacking up'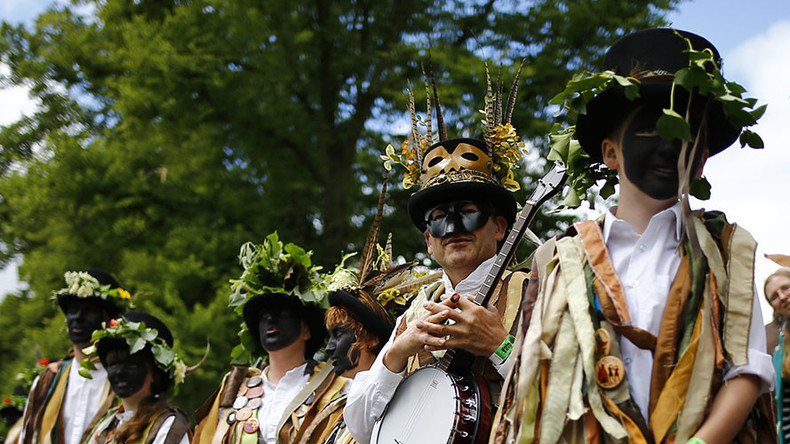 Morris dancers have been donning black face makeup since around the 16th century, but a folk festival in Shrewsbury has put an end to the age-old tradition. While many have praised the decision, others have called it "politically correct nonsense."
This particular folk festival has taken place every year since 2006. But this year's Morris dancers are facing a strict rule that wasn't present in previous years.
"The festival has never wished to cause offense to any person and as such, from 2017, we will no longer book sides [acts] that use full face black makeup," festival director Sandra Surtees said, according to the Telegraph.
Surtees admitted the festival found itself "caught between two sides of this opposing argument."
"We have been approached by one group that has requested we no longer book sides that use full face black makeup and another that has asked us not to change our policy and to continue to book these sides," she said.
Ultimately, the festival decided to ditch any Morris dancers who insisted on wearing black makeup – a move which has been praised by many, including local equality group Fairness, Respect, Equality Shropshire (Fresh), which contacted festival organizers after a complaint from a member of the public.
"We entirely understand the argument from Morris dancing communities that this is something that goes back to tradition," Fresh employee Jonathan Hyams said.
"However, there are other ways of celebrating this other than blacking up, which has very strong connotations of racism."
But Morris dancers insist that wearing black makeup is merely a tradition dating back to the 16th century. They say there are "no racial connotations" and they have "never wanted to upset people."
Local residents have spoken out against the decision, saying it is an attack on the culture of Morris dancing.
"It's terrible that PC nonsense is being used to repress our traditional customs in this way. These ancient traditions are at risk of dying out completely. Just disgusting," resident Jon Roads said.
The practice of wearing black makeup is used in a division of Morris dancing known as 'Border Morris.' One theory says the tradition began when impoverished farm workers had to conceal their faces to avoid being recognized while begging during the winter, as asking for money was illegal.