Ex-UKIP boss Nigel Farage vows return to frontline politics if Brexit isn't delivered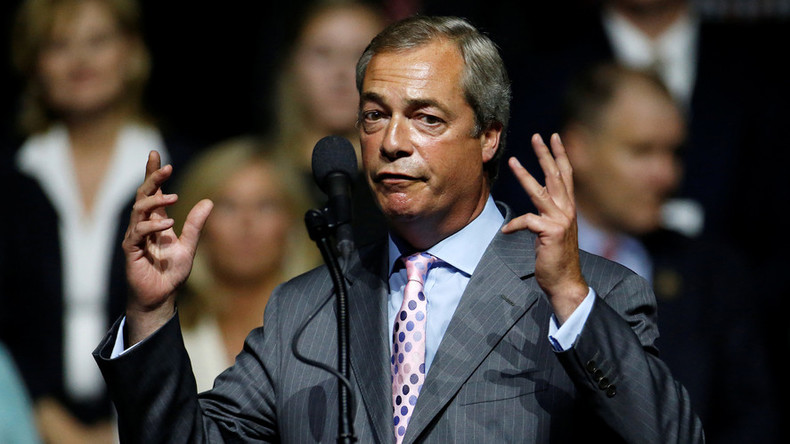 Nigel Farage says he will return to frontline politics if Brexit isn't well underway by the end of 2018, citing fears the British public will be let down.
Speaking to TalkRadio, he said Tory Prime Minister Theresa May must follow through with her pledge to enact Article 50 of the Lisbon Treaty and fulfill the democratic wishes of the British people.
"If by the end of 2018 or early 2019 we were not out of the single market, we did not have control of our borders back and we hadn't got our fishing waters, then I think I couldn't possibly let down all of those people who I encouraged to vote for Brexit without saying I'm going to have to step into the frontline again and do something."
"I have stepped back from the frontline, I want Theresa May to be faithful to her word that, 'Brexit means Brexit.'"
On Wednesday night Farage took to the stage alongside Republican presidential hopeful Donald Trump to tell the story of the Brexit campaign and urge Americans to "take on the establishment."
"We reached those people who have never voted in their lives but believed by going out and voting for Brexit they could take back control of their country, take back control of their borders and get back their pride and self-respect," Farage told the audience.
As the US billionaire looked on, the former city commodities trader told the audience it was possible for "the little people, for the real people" to win out if they fought together.
Farage also took a swipe at Hillary Clinton, although he fell short of a full endorsement of Trump.
"I could not possibly tell you how to vote in this election. But I will say this, if I was an American citizen I wouldn't vote for Hillary Clinton if you paid me," he told the crowd.
Trump welcomed Farage warmly and said it was an honor to have him on stage.
Knowledge of Farage was thinner on the ground than his front and center presence may indicate, with one woman telling a Guardian reporter at the rally: "He's from the Brits. That's all I know."
Farage was also reportedly accompanied by UKIP's wealthy donor Arron Banks, who owns diamond mines in Africa and was named in the leaked Panama Papers for his offshore business interests.
Banks, who is said to have donated up to £6.5 million (about US$8.5 million) to the Brexit campaign, is closely involved in the inner circle of the movement's furthest right wing.
Farage's invitation may have been engineered by Trump's new campaign manager Stephen Bannon, who until taking up the role was head of the Breitbart news website and also a strong advocate of Brexit.