Thatcher's secret arms deal talks with Saudi Arabia exposed in declassified documents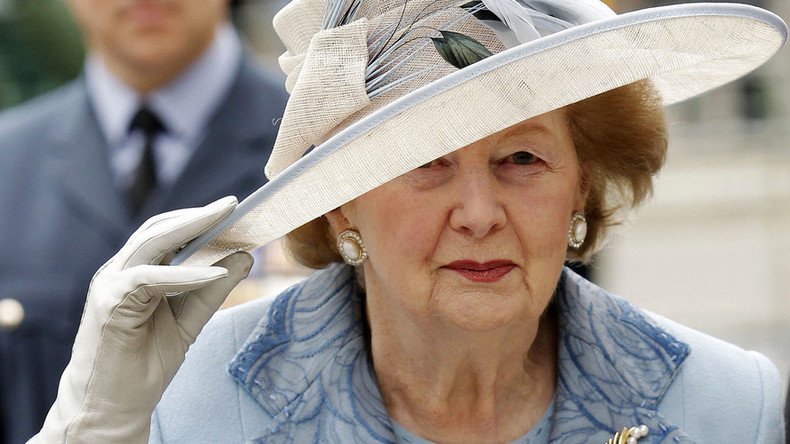 Former British Prime Minister Margaret Thatcher held secret talks with Saudi rulers to persuade them to spend billions on UK-made fighter jets in what would later become Britain's largest and most controversial arms deal, newly released documents show.
According to a series of secret memos, Thatcher made a quick trip to Riyadh on April 14, 1985, to "smoke out the Saudis" and have lunch with then-ruler King Fahd to convince him to purchase fighter jets from British Aerospace rather than France.
At the time, Britain was attempting to close the Al-Yamamah deal – a £42 billion ($55.3 billion) contract to sell the Saudis 30 British Hawk and 72 Tornado fighter jets.
France was simultaneously trying to pitch its own contract for the sale of the Mirage aircraft.
Prince Bandar bin Sultan Al Saud – an anglophile and the influential ambassador to Washington – told the Foreign Office that the king preferred its deal and invited Thatcher to visit Riyadh for a talk.
"It seems unlikely that Prince Bandar would seek to engineer such a meeting unless something positive was likely to come out of it; otherwise he runs the obvious risk of embarrassing both the prime minister and King Fahd," read a briefing document from Heseltine's private secretary to Thatcher's foreign policy adviser Charles Powell.
The Foreign Office suggested Thatcher's visit was a way of "tackling the king in person" and was "probably the only way of smoking the Saudis out."
Following the meeting, the government decided to keep the reason for its talks a secret. Thatcher wrote a letter to the king thanking him for "being able to discuss a further matter privately."
The stopover in Saudi Arabia, following an official visit to South East Asia, was later explained publicly as an opportunity to discuss recent developments in efforts to find peace between Israel and the Palestinians.
By September 1985, the deal was signed and created thousands of jobs through defense giant BAE Systems and its partners.
However, the sale proved highly controversial due to claims that BAE maintained a multimillion-pound slush to offer secret payments to Saudi royals and their intermediaries in order to make sure the deal was completed.
BAE has denied any wrongdoing in connection with the deal.
In 2006, Tony Blair's government stopped a corruption investigation into the fund by the Serious Fraud Office, stating that it would result in "serious damage" to relations between the UK and Saudi Arabia.
In 2010, BAE Systems reached a £286 million settlement over corruption claims with the Serious Fraud Office and the US Department of Justice.
You can share this story on social media: