Bloody bazaar: Who's buying at the London Arms Fair?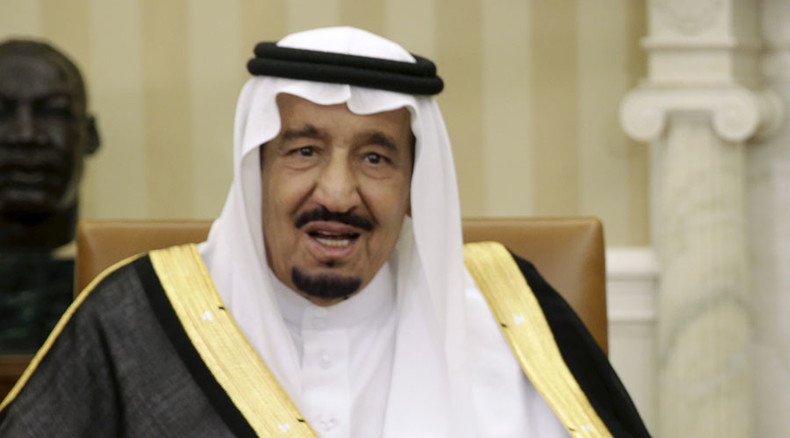 Saudi Arabia, Egypt, Israel, Bahrain and the UAE will be among the countries participating in London's 2015 Defence Security and Equipment International (DSEI) exhibition next week. RT takes a look at this year's potential biggest buyers, whose record has often stirred controversy.
Customers at this year's arms fair may not always see eye-to-eye on geopolitics, but one thing they do hold in common is a desire to keep their armories well stocked.
Countries such as Bahrain and Israel need guns to put down the meddlesome elements within their borders, while nations like Saudi Arabia and the United Arab Emirates need arms to fight Houthi rebels in Yemen.
Over the course of next week, military buyers from around the world will rub shoulders at the world's biggest arms fair in London's EXCEL exhibition center to shop around for the deadliest deals.
This year's DSEI will welcome some of the world's most repressive regimes. Among the guests are Saudi Arabia, Egypt, Bahrain, Israel and the United Arab Emirates, all of which have been condemned for human rights abuses and violating international law.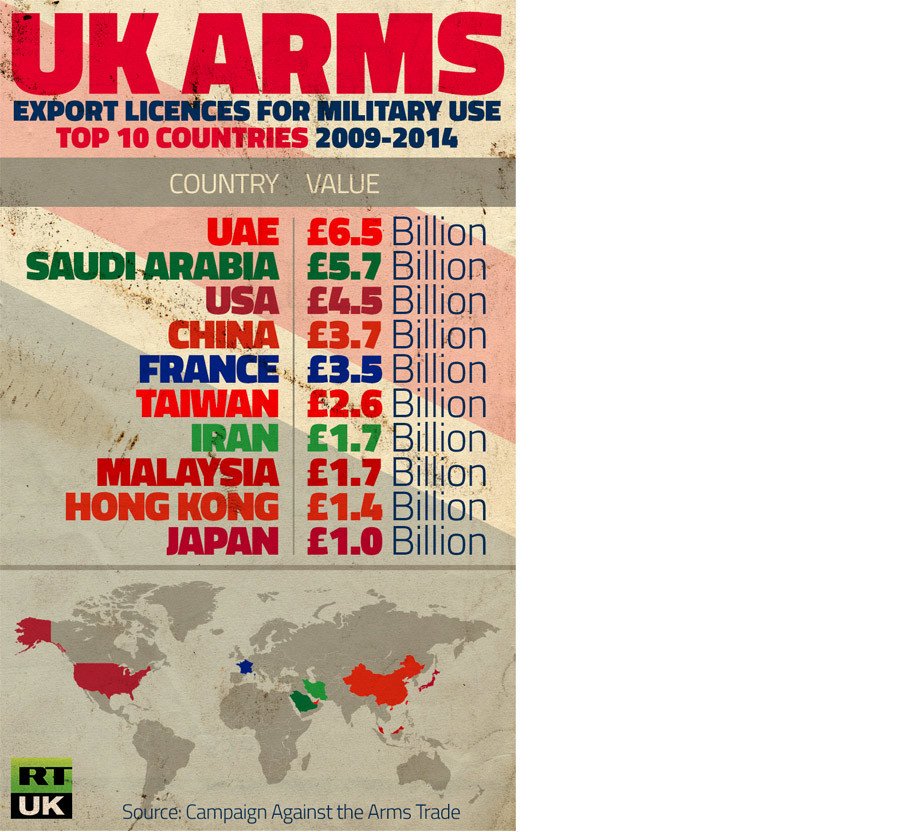 Saudi Arabia
The Houseof Saud is a longstanding ally of the UK and was Britain's second biggest customer for arms from 2009 to 2014, buying £5.7 billion worth of weaponry. Britain's late former PM Margaret Thatcher oversaw the Al Yamamah "dove" deals of the 1980s, when the UK supplied Tornado and Hawk jets to the Gulf kingdom.
Following a visit by Prince Charles in February 2014, BAE announced Saudi Arabia had agreed to purchase 72 Typhoon fighter jets from the arms giant. Although the cost remains unknown, reports indicate the Saudis initially offered £4.4 billion.
Saudi Arabia is currently leading a coalition of African and Middle Eastern states against Houthi rebels in Yemen. According to Human Rights Watch (HRW) and Amnesty International, Saudi-led bombings have struck medical facilities, civilians, and UN buildings in clear violations of international law.
In June, the UK Ministry of Defence (MoD) confirmed to RT that Britain is supplying Saudis military operations with support and "precision guided weapons."
Israel
The sixth-largest arms exporter in the world, Israel will be attending the 2015 DSEI as both customer and vendor. Elbit Systems, Israel's biggest private arms firm, will be taking orders for the latest drones while the state-owned RAFAEL is likely to be selling the missile defense technology behind the country's famous Iron Dome.
As a customer, Israel imports F-16 fighters and Apache combat helicopters from the US and components for these from UK manufacturers. Britain has sold £42 million of arms to Israel over the past three years, despite calls for an arms boycott against the country due to its treatment of Palestinians and alleged war crimes. Israel's military occupation of the Palestinian territories is considered illegal by the UN, but could not be enforced without military equipment from the US and UK.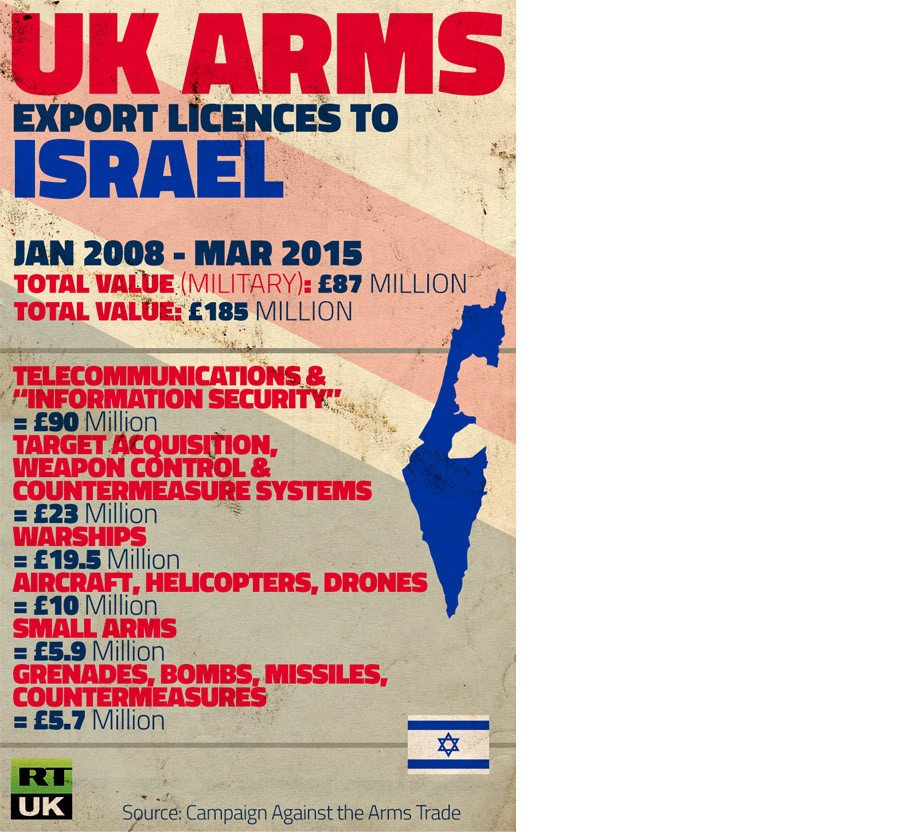 In the immediate months following Israel's bombardment of Gaza last summer, the UK approved £4 million worth of arms sales to the country. The UN accused Israel of war crimes following the conflict, in which more than 2,200 Palestinians were killed.
Bahrain
In February 2011, Bahrain began a violent crackdown on protesters who demanded greater political freedoms and equal civil rights for the majority Shia population. Between 150,000 and 300,000 activists took part in demonstrations, 93 of whom were killed and around 2,900 wounded by security forces.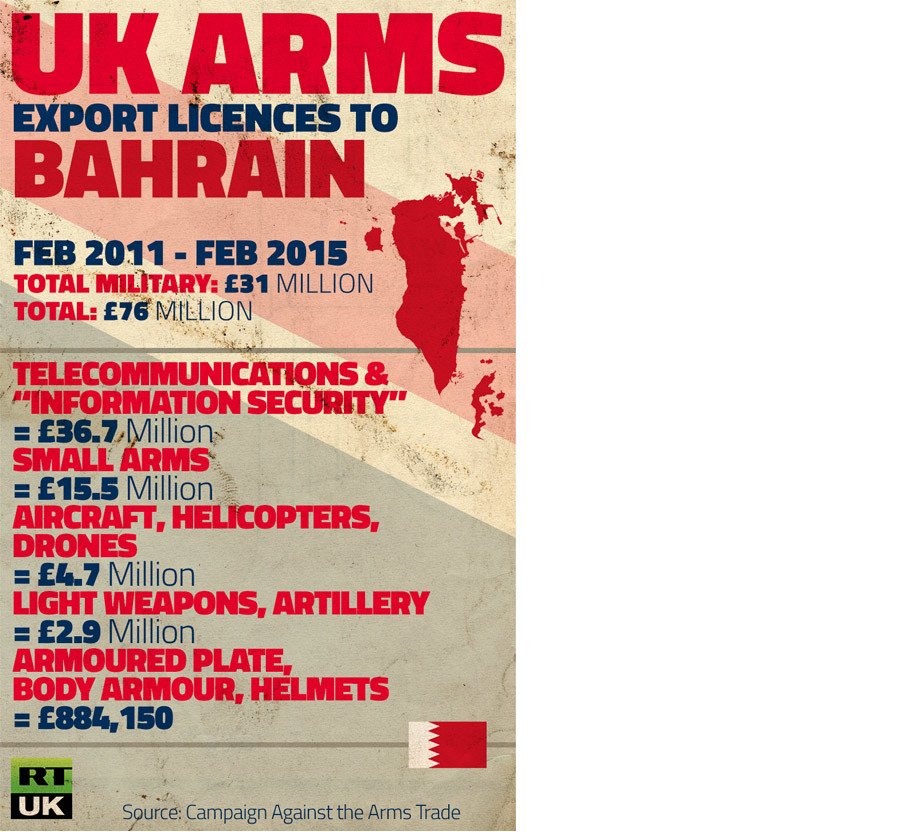 Bahrain continues to persecute dissidents using security equipment imported from the UK. Britain sold £76 million worth of arms to Bahrain between February 2011 and February 2015, £31 million of which was designated for the military. Popular products included small arms, light weapons, body armor and information security.
Egypt
Despite coming to power through a military coup in July 2013, Egyptian President Abdel Fattah el-Sisi is a close ally of the UK and a key customer for British arms. Sisi has been accused of appalling human rights abuses over the past two years, including the violent persecution of citizens belonging to the former ruling party, the Muslim Brotherhood.
Last week, an Egyptian court sentenced three Al-Jazeera journalists to three years in prison for broadcasting "false news" and biased coverage. The ruling was widely condemned by press freedom campaigners.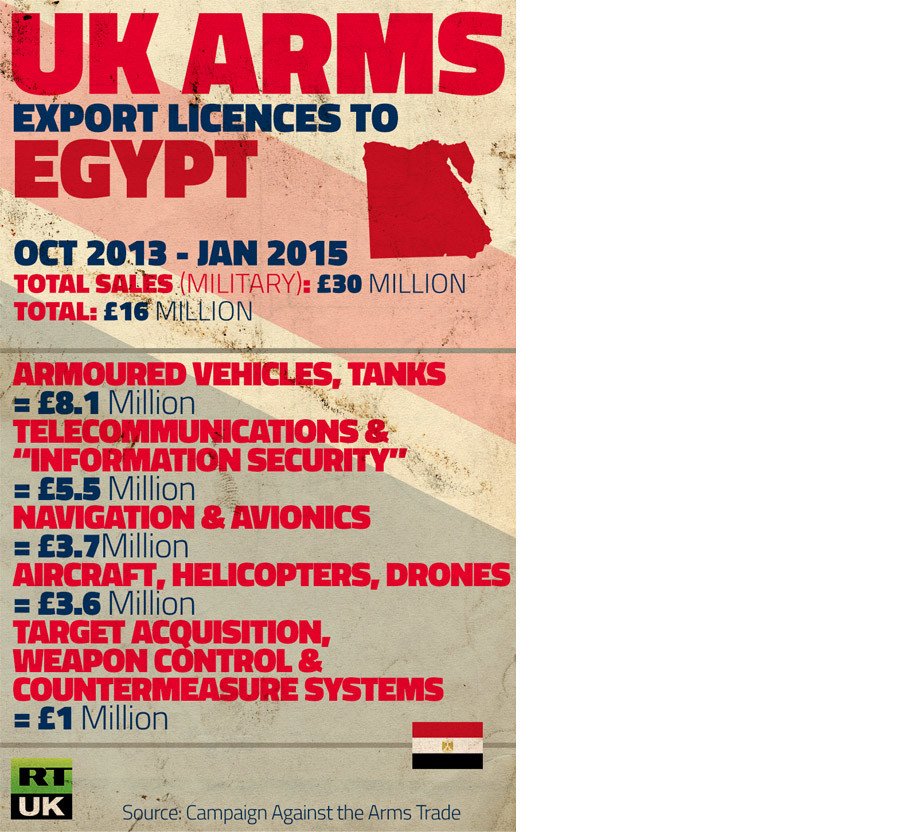 Since the coup d'état, the UK has authorized £30 million worth of arms export licenses to Egypt. Weapons such as armored vehicles, telecommunications equipment and target acquisition systems were sold to the authoritarian state, despite concerns over civilian deaths.
United Arab Emirates
UAE was Britain's biggest customer for arms from 2009 to 2014, buying £6.5 billion worth of weapons. The Gulf State has adopted a policy of military modernization, becoming the fourth largest arms importer globally in 2011. According to a 2013 Royal United Services Institute (RUSI) Report, UAE is seeking to develop "fighter jets, anti-missile systems and homeland security capabilities."
In March this year, UAE joined a Saudi-led coalition against Houthi fighters in Yemen. According to UAE state media, Emirati airstrikes have been hitting Houthi targets throughout Yemen. Some 45 Emirati soldiers were killed on September 5 when a Houthi missile struck an ammunition depot in Marib province.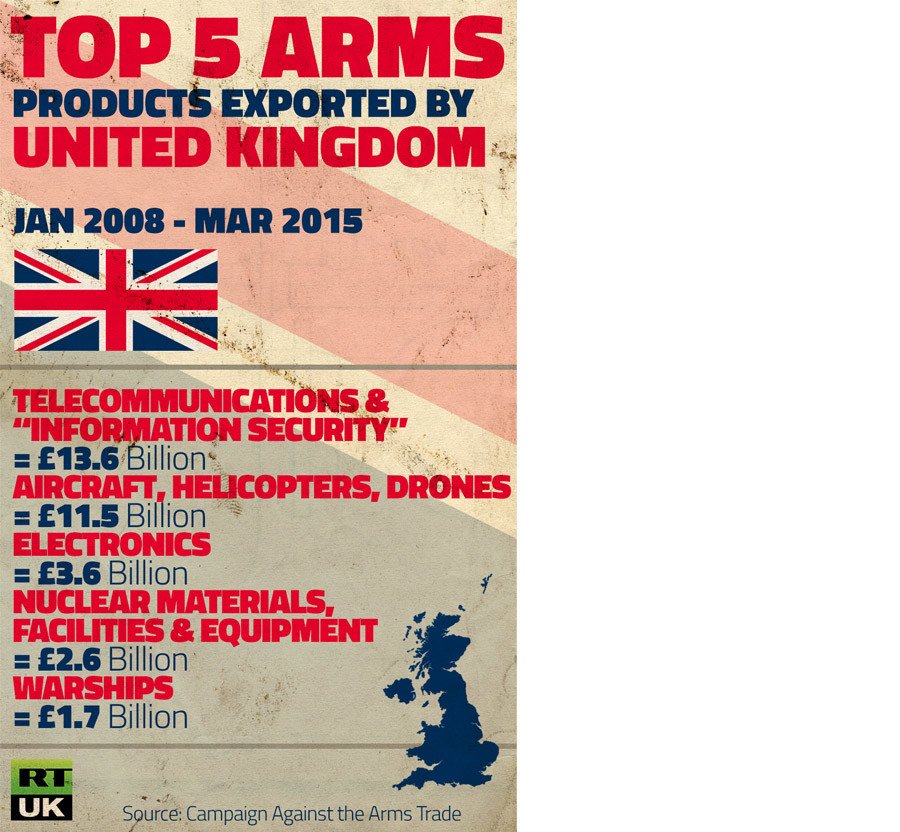 You can share this story on social media: