Wife of convicted ISIS-supporting extremist cleric Choudary now facing investigation
Published time: 17 Aug, 2016 16:07
Edited time: 18 Aug, 2016 13:48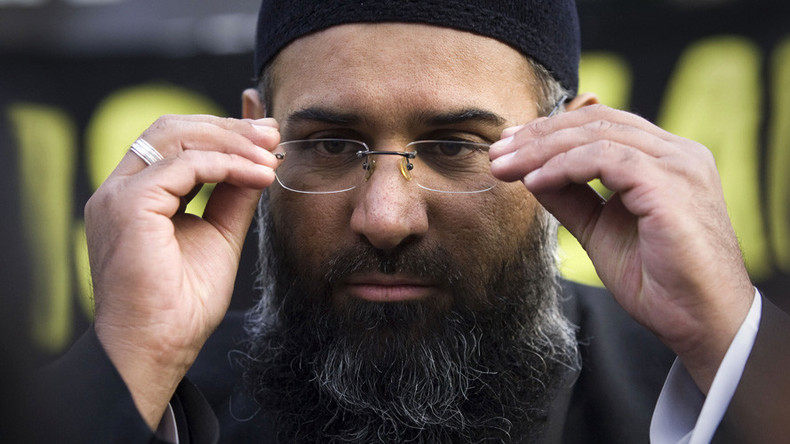 Scotland Yard has confirmed that the wife of extremist cleric Anjem Choudary is under investigation. It comes as the brother of a man who became radicalized after meeting Choudary expressed fears that the cleric's influence could grow in prison.
Broadcast in November 2015, a Channel 4 Dispatches documentary showed undercover footage of Rubana Akhtar, referred to as Umm L., telling a group of women and teenagers about "plots" against Muslims and describing the "audacity and the arrogance of these Jews" over the Palestine conflict. She also referred to Jews as "filthy."
She went on to praise the establishment of a caliphate by Islamic State (IS, formerly ISIS/ISIL), saying: "The good days have already begun, nobody ever [would] have thought in our lifetime we would see the establishment of the Khilafah [Islamic State]."
Akhtar also claimed that more people are becoming radicalized as a result of government efforts to stop extremism.
"If they thought it was a plan to deradicalize people, God they got it so wrong, because if anything, more and more people are becoming what they call radicalized," she said.
Jurors at Choudary's trial also heard that when the preacher sent his wife a text message to confirm he had pledged support for an IS caliphate, Akhtar responded with "happiness and approval."
The trial also heard that Akhtar had run up £100 (US$130) phone bills in an attempt to spread her extremist views.
Referring to the Channel 4 documentary, a Scotland Yard spokesperson said authorities were aware of it and have been "making a number of inquiries."
"Officers from the Met's Counter Terrorism Command executed a number of search warrants at addresses in east London on Monday May 16 in relation to these inquiries...there have been no arrests and inquiries are ongoing," the spokesperson said, as quoted by the Press Association.
Meanwhile, Robb Leech, whose brother Richard was jailed for plotting terrorist acts after meeting Choudary, warned on Wednesday that the extremist preacher could be viewed as a "martyr" in prison.
"It's difficult to say. The problem with going into prison is that the prison is full of other vulnerable young people," Leech told the BBC.
"Maybe it's even worse in some ways that he is in prison, it's ripe pickings for him," said Leech, who made the documentary 'My Brother the Terrorist' in 2014, following the imprisonment of sibling Richard Dart.
Choudary, 49, was convicted on Tuesday of supporting IS.
The extremist preacher has historical links to Islamist groups al-Muhajiroun and Islam4UK, and a number of his followers have gone on to be involved in terrorist plots. He faces 10 years in prison and will be sentenced in September.