Homeward bound: 50% of grads who paid £9k-a-year tuition fees are living with parents, report says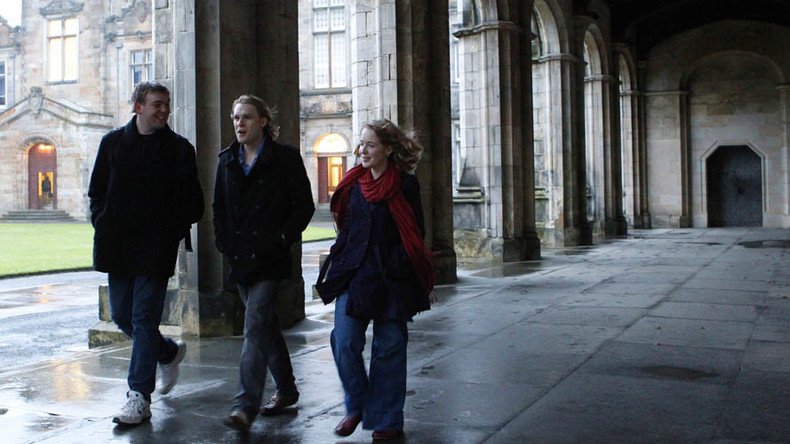 Students often dream of a nice house and fancy car after graduating from university, but a new report has revealed almost half of the first cohort who paid £9,000 a year in tuition fees are living back home with their parents.
The National Union of Students (NUS) report highlighted the post-university situation of the first graduates to have paid £9,000 (US$11,700) per year in tuition fees, after costs were hiked in 2012.
The report's findings revealed that 47 percent of students were living with their parents seven months after graduating.
But the bad news didn't end there. Seven out of 10 students surveyed said they were concerned about the student debt they had accumulated, and half thought their degree wasn't worth the fees. More than three-quarters of graduates said they are concerned the government might change the terms of their student loans to make them pay back more.
In addition to education debt, six out of 10 of the students surveyed graduated with consumer debt averaging £2,600. Forty-six percent had accumulated additional debt since leaving university.
When it came to employment, 52 percent were in full-time work, while 13 percent were working part-time and 2 percent were self-employed.
Approximately 8 percent said they were unemployed, while 17 percent were studying for a post-graduate qualification.
Sorana Vieru, NUS vice president for higher education, spoke of the "double jeopardy" faced by students upon graduation.
"They enter the world of work having paid far more for their education, with the debts hanging over them. Yet they receive far less benefit from this education in the labor market compared to previous generations, while living costs keep rising and the welfare safety net is shrinking," Vieru said in a statement.
Women found themselves in a less fortunate situation than men, with the report showing three times as many men employed in full-time jobs earning more than £30,000. Meanwhile, double the number of women were earning less than £15,000.
The report, released Wednesday, was based on an online survey of more than 500 graduates who had been full-time students at British universities. It was a follow-up to a similar poll last summer of the same respondents, which looked at the cost of education and its impact on students' decision-making.
Tuition fees were nearly trebled in 2012, jumping up to a maximum of £9,000 a year for undergraduate courses. The move sparked protests and campus occupations across the country.
The British government confirmed last month fees will now be raised once again, with students facing annual tuition costs of £9,250 from September 2017.
You can share this story on social media: