£9,000 not enough? University fees may rise again under new Tory white paper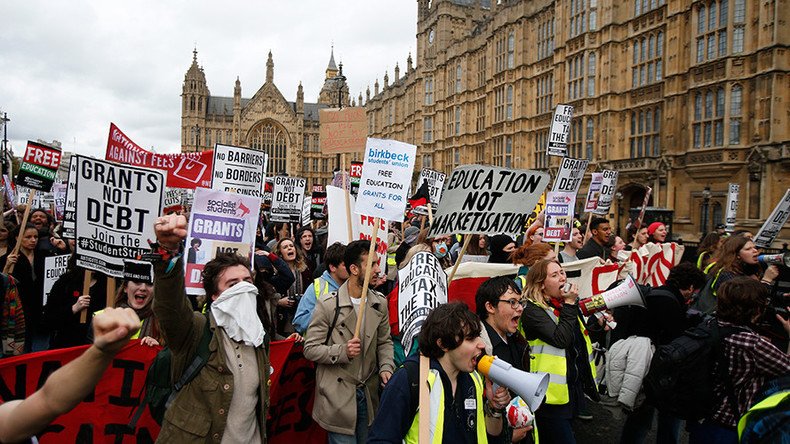 Universities in the UK which meet 'high standards' will soon be able to raise student tuition fees above the £9,000 (US$13,000) cap in line with inflation, a government white paper has said.
The plans will be rolled out from autumn 2018 as part of a wider reform of Britain's higher education sector, which the government claims will encourage more competition and better value for students.
Critics warn Britain's student body will be "outraged" at the reforms, while union leaders cautioned it could open Britain's higher education to "for-profit providers."
Students have vehemently opposed attempts to raise tuition fees since they were first introduced in 1998. Up to 50,000 students marched through London in protest against legislation to triple tuition fees from £3,000 to £9,000 in 2010.
Under plans announced by Minister for Universities and Science Jo Johnson, brother of former London mayor Boris Johnson, the government will create a new mechanism for "measuring quality" called the Teaching Excellence Framework (TEF).
Most controversially, the reforms will see "increased fee caps at or below the rate of inflation."
The current maximum amount a university in Britain can charge for one year's tuition is £9,000. Under the new measures, institutions may raise their fees so long as they don't go above the rate of inflation.
"As now, any changes to fee caps will need to be approved by Parliament," the white paper states.
Johnson insisted there are no plans to let universities remove the fees cap.
"They have seen a real-terms cost pressure and we want to enable them to adjust ... but only in return for high quality teaching."
Critics fear the reforms will pave the way for higher tuition fees and the further infiltration of neo-liberal economics into higher education.
"The White Paper is potentially disastrous for students, and it must be fought," the Student Assembly Against Austerity National Committee's Hayden Cooper told RT.
"The Teaching Excellence Framework aims to allocate funding to 'quality not quantity' institutions. While this sounds good on paper in reality it means privileged institutions will receive more funding while struggling institutions will be all but condemned.
"Plans to link fees with inflation rates (for those who meet TEF) are disastrous for working class students. Thankfully the NUS and the student left together are challenging the white paper," Cooper added.
"United we can defeat these attacks on students."
National Union of Students (NUS) Vice-President Sorana Vieru also hit out at the white paper.
"Students will understandably be outraged at any suggestion universities could be allowed to put fees up even higher in order to improve teaching quality. It was only four years ago tuition fees were trebled and students now face debts up to £53,000 when they graduate," she said.
"The government should urgently reflect on this and drop this muddled proposal."
The government also plans to make it is easier for new institutions to be given degree-awarding powers, including for-profit universities.
Vieru said it was important to know what protections will be put in place for students, to ensure they are not "ripped off" by institutions "focused on shareholders rather than students' interests."
You can share this story on social media: