Knife-wielding student tries to break into Buckingham Palace 'to kill the Queen'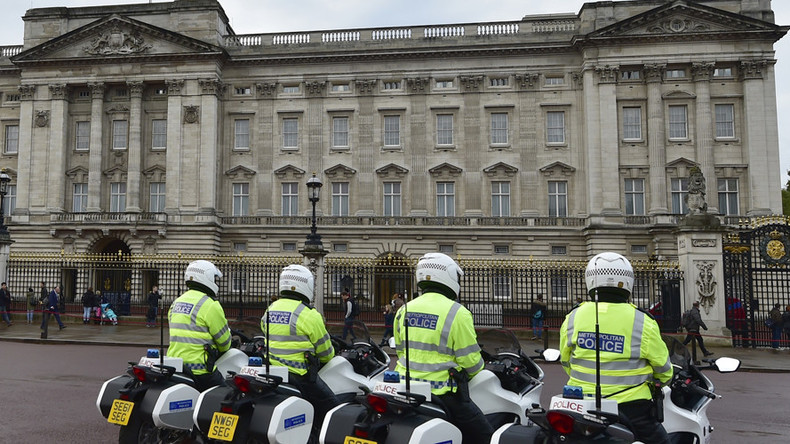 A Chinese student was arrested after trying to break into Buckingham Palace with a knife and reportedly threatening to kill the Queen. He appeared in court on Tuesday.
University of Sheffield student Hang Zhang, 25, was arrested at around 2:45pm local time on Friday, after attempting to break into the royal residence and allegedly threatening to kill the Queen.
Following his arrest, Zhang was taken to a local police station and was searched by officers who found a folding pocket knife in his shoe.
Although Zhang reportedly threatened to kill the Queen, that charge was later dropped on account of his mental health, MailOnline reported. Zhang told officers that he feared Chinese government agents were following him.
However, he still faces a charge of possessing an offensive weapon and will appear in court again on Tuesday, the Evening Standard reports.
Police say they are not treating the incident as terrorism-related. The Queen was not believed to have been inside Buckingham Palace at the time of the attempted trespass.
The Friday incident marks the fourth security alert at the palace since May.
Just last week, a drunken man was arrested after scaling a fence at the royal residence and spending 14 minutes walking the grounds at around 4:15am local time. He was eventually arrested by royal protection officers who spotted him on CCTV.
Meanwhile, a 47-year-old man caught armed with three knives outside the palace in June is scheduled to be sentenced later this month. The man, who pleaded guilty to possession of the knives, had parked his car 100 meters away from the residence. He told officers he was working for the Queen and Prince Philip.
In May, a convicted murderer prompted a police lockdown at Buckingham Palace after scaling a 10-ft wall. He wandered the premises for up to 10 minutes before finally asking officers, "Is Ma'am in?"
You can share this story on social media: