Fruits of 'special relationship': Britain spends $449bn to support 1mn US jobs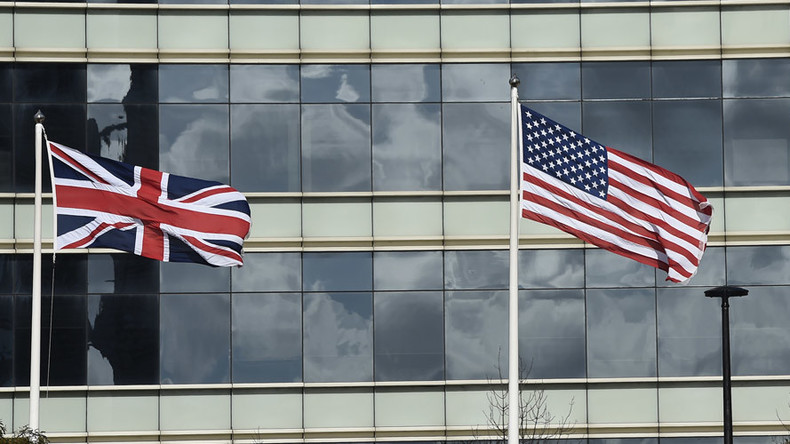 Britain is the biggest single investor in the United States, supporting more than one million jobs and outspending Japan and Canada, new research has found.
A report from the Confederation of British Industry found that UK investment in the US amounts to 15 percent of all foreign direct investment (FDI) in the country.
Britain pumped $449 billion (£154 billion) into America at the end of 2014, some $76 billion (£59 billion) more than the next largest investor, Japan, and $200 billion (£154 billion) more than Canada.
The Sterling Assets report also found that Britain's presence in the US economy hugely outweighs that of India and China, whose combined investment comes to just under 1 percent of all FDI.
The research underscores Britain's "economic special relationship" with the US at a time when Westminster continues to ally itself closely with Washington.
Parliament's vote to renew Britain's Trident nuclear deterrent was described by US Defense Secretary Ash Carter as important to the "special relationship" between the countries.
"We depend upon the UK, the UK depends on us – that's part of the special relationship," he said in February.
Research by the CBI now reveals that British companies support a total of 1,029,700 jobs across the US, with almost a quarter in manufacturing.
"As the Government negotiates our exit from the EU, a clear strategy will be needed to boost trade with partners, old and new, across the globe," CBI International Director Ben Digby said.
"Markets should be carefully prioritized, in consultation with business, to lay the foundations for deep and comprehensive future trade and investment relationships, and the USA must be at the top of that list.
"The UK stood to be up to £10 billion a year better off upon implementation of the Transatlantic Trade and Investment Partnership (TTIP) between the USA and the European Union, so the Government should also explore the possibility of joining the final deal, as a third party."
Texas has the most jobs supported by British firms, surpassing 100,000, followed by California and New York.
Despite Britain's heavy participation in US industry, it is unlikely to be enough to offset its economic gains from access to the EU's single market, which could add an extra 4 percent to the UK economy, according to the Institute for Fiscal Studies.