PC pool? Luton sports centre accused of discrimination after introducing 'men only' swimming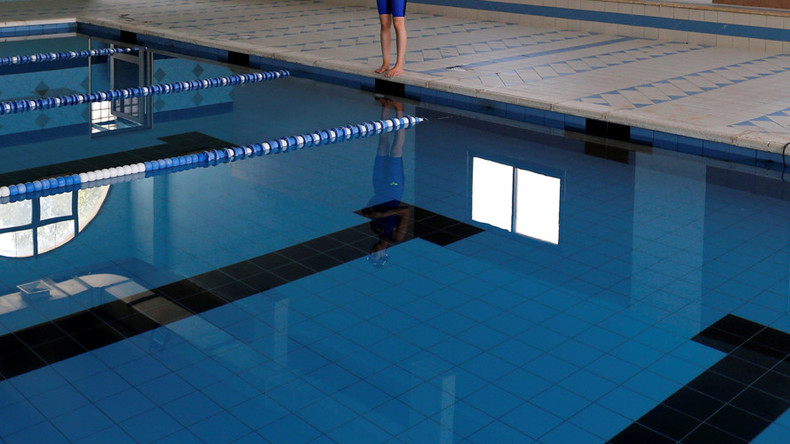 A taxpayer-funded swimming pool in Luton has sparked outrage after introducing weekly "men only sessions" and requiring swimmers to cover up "navel to knee" in what organizers say is a move to increase participation in sports.
Luton's Inspire Sports Village began hosting the gender-segregated sessions last week, and they are set to take place every Friday.
While men are given free rein of the larger 160ft Olympic-sized pool, women will have access to a smaller 65ft community pool at the nearby sports facility in Stopsley during the hour-long session.
The sessions are advertised in a Facebook page as "Alhamdulillah swimming," an Arabic phrase which thanks God for his blessings. Posters for the event also state "navel to knee must be covered."
The move sparked a slew of criticism across social media, with one Twitter user writing "No, no, no. Stop this madness," and another threatening to cancel her Sports Village membership.
"If I wanted to swim at this Luton pool on a Friday eve I don't want to wear 'navel to knee.' Why should I? I'm not Muslim!" another woman tweeted.
@LBC hold on. If I wanted to swim at this Luton pool on a Friday eve I don't want to wear 'navel to knee'.Why should I? I'm not muslim!

— Traceyr (@TraceyrT) August 4, 2016
But Active Luton, the group operating the pool, defended the move, saying the sessions are merely a way to encourage greater participation among the community.
"We are absolutely committed to improving the health of all Luton residents and work closely with our communities to remove any barriers that may exist which prevent people from taking part in sport and physical activity," it said in a statement released Thursday morning.
"One such initiative is men-only and women-only activities across our wider program as this removes barriers to participation for many people for a variety of reasons including confidence, religious beliefs, body image and more.
"This is all part of our goal of getting as many people as possible in our community active and creating a healthier Luton."