25 Nazi Waffen-SS veterans found living freely in Britain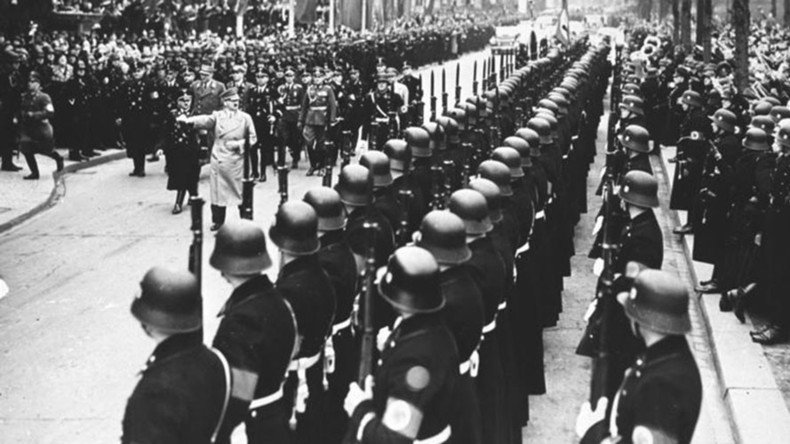 Veterans of Nazi Germany's infamous Waffen-SS have been discovered living in Britain 70 years after the end of WWII.
At least 25 ex-soldiers of the SS Galizien division, made up of ethnic Ukrainians from the Galicia region of Ukraine, have been found living in the UK since the end of the war.
Some of the former soldiers, who served in a crack paramilitary force, were once listed as alleged war criminals by the Soviet Union.
However, the Foreign Office granted 8,000 of them permission to reside in the UK. Today, the last surviving veterans are spread across the country.
Some have admitted to suppressing rebellions and to handing over communists to the German police.
Two survivors, Myron Tabora, 90, and Ostap Kykawec, 92, were both listed as suspected war criminals by the USSR in 1948.
SS personnel cards for the pair can still be found in archives. Both were lieutenants in the SS Galizien and were of interest to famous Nazi-hunter Simon Wiesenthal.
Tabora, now living in Lichfield, Staffordshire, worked as an engineer after arriving in the UK and told the Sun newspaper he had never seen his SS personnel card before.
He also claimed he never knew he was listed by the Soviet Union as an alleged war criminal.
"I was with the Galizien, yes. But I never fired a rifle and I was in officer school for two years. I went to the Austrian front but I didn't know of any men committing crimes," Tabora said.
"But what is a war crime with what the Russians did? I heard about Polish people being killed in Ukraine but Poles were killing Ukrainians just the same. It was mutual. And what about the British Empire killing people?"
Both Tabora and Kykawec joined the SS Galizien in 1943, when they were 18 and 19 respectively.
Kykawec, who lives in Keighley, West Yorkshire, claims he was in SS officer school for two years and only fired weapons in training exercises.
"I was fighting for Ukrainian independence, that's why I joined. We were under German command as the Galizien. At first we were regular SS but then we became Waffen-SS – we wore a lion on our shirts," the former textiles worker and engineer said.
Although the SS Galizien was never found guilty of war crimes, accusations have long existed around the unit's conduct.
It has been claimed the Galizien took part in the violent suppression of popular uprisings in Slovakia, Yugoslavia and Serbia and massacred civilians in these countries, as well as Polish citizens in Ukraine.
As part of SS officer training, soldiers were taught methods of controlling prisoners at the infamous Dachau concentration camp in Germany, where an estimated 31,951 people were killed.
One former member of the SS Galizien, Michailo Fostun, admitted to helping put down the Jewish uprisings in Warsaw in 1943 and to taking part in the destruction of the Bialystok ghetto, during which 60,000 men, women and children were slaughtered.
Fostum lived out in his life in Wimbledon, London, where he died in 2004.
Following the war, the Foreign Office deemed the task of screening all 8,000 SS men who were offered settlement in Britain to be too challenging.
"We only have their own word for it that they have not committed atrocities or war crimes," Brigadier General Maclean said at the time.
You can share this story on social media: