British officers stay on 5-star luxury superyachts while soldiers live in 'flea-infested' squalor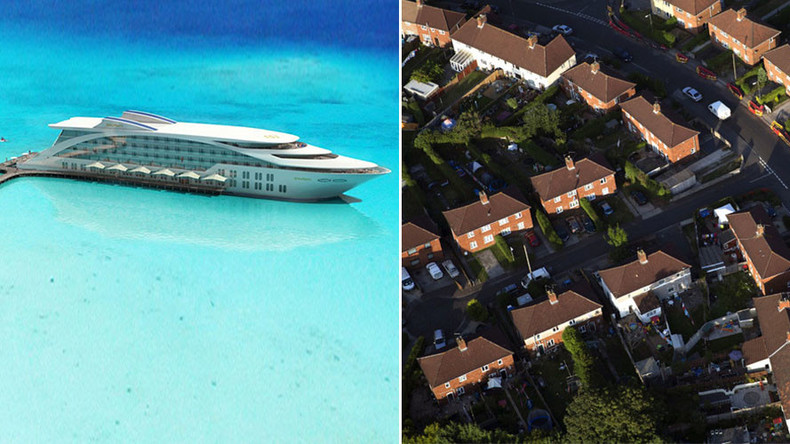 While British soldiers fear for their children's health in squalid flea-infested housing, UK taxpayers are footing a massive bill for senior officers to stay on 5-star luxury superyachts, it has emerged.
Only weeks after the horrendous conditions forced upon soldiers in privatized military housing were exposed by the Public Affairs Committee (PAC), a new freedom of information (FoI) request by the Times shows the military has spent tens of thousands of pounds on opulent hotels for its senior officers.
The revelations cast light on the James Bond lifestyle enjoyed by some officers in luxurious hotels both at home and abroad in exotic settings such as Djibouti, Chad and Nigeria.
In 2014-2015 the military spent more than £300 (US$396) per night on 75 different hotel stays, costing the public purse more than £120,000 (US$160,000).
The most expensive stays were at the Sunborn Hotel, a superyacht equipped with two restaurants and a casino at times moored near the Excel Arena in London.
Perhaps incidentally, the Excel is the site of the UK's biennial DSEI arm fairs. The event is as famous for its clientele – a who's who of the world's dictators and strongmen – as for its deadly wares.
Twenty nights in the £120 million floating hotel cost the taxpayer £8,880 in all.
Ten nights for military personnel in the Sheraton hotel on Sydney Harbour cost £3,639, while the military spent £35,600 at London hotels despite the substantial number of military barracks in the capital.
More than £300 was spent on a single night at the Park Lane Hotel, 1 mile from Hyde Park barracks while £1,696 was splashed on three nights in the plush Royal Horseguards hotel despite it being less than 10 minutes from its namesake Horse Guards - the military's London hub.
Details of trips to countries such as Djibouti, Chad and Nigeria were redacted for security reasons, it was claimed.
By contrast, one veteran interviewed in the July PAC report into housing run by the controversial private firm Carillion Amey said he feared for his infant child's health, such was the appalling standard of accommodation.
"The impact on our family has been huge. We have been constantly worrying about keeping the baby warm, we have not been able to clean bottles properly," he claimed.
In the same report the wife of one Royal Marine claimed: "We are still seeing people with moldy and damp homes, rat infestations … Families are moving into properties that are disgustingly filthy – when I say filthy, I mean flea infestations and dog hairs on carpets."
The MoD said accommodation is in short supply in London and that hotels are only used for essential business.
Labour's shadow defense secretary, Clive Lewis, told the Times: "Some of these hotels are charging eye-watering amounts of money, far beyond what most families on a soldier's salary would even dream of being able to afford."
In a statement the military said it is "making significant savings in travel costs and always expect our staff to demonstrate the highest standards of responsibility when incurring travel expenses."
The revelations have come as the military is accused of further frivolous spending – this time on military uniforms for celebrity figures.
The armed forces ambassador scheme saw the likes of TV survival expert Bear Grylls, celebrity mathematician Carol Vorderman and cycling champion Chris Hoy decked out with formal uniforms to celebrate their role.
The cost of outfitting the 120 ambassadors may have reached £100,000 overall.
A spokesman for the Taxpayers' Alliance told the Daily Mail: "It seems unlikely this is what [former Chancellor] George Osborne had in mind when he committed us to meeting NATO's defense spending target."