London police filmed pinning down, putting hood on young black man over train station tiff (VIDEO)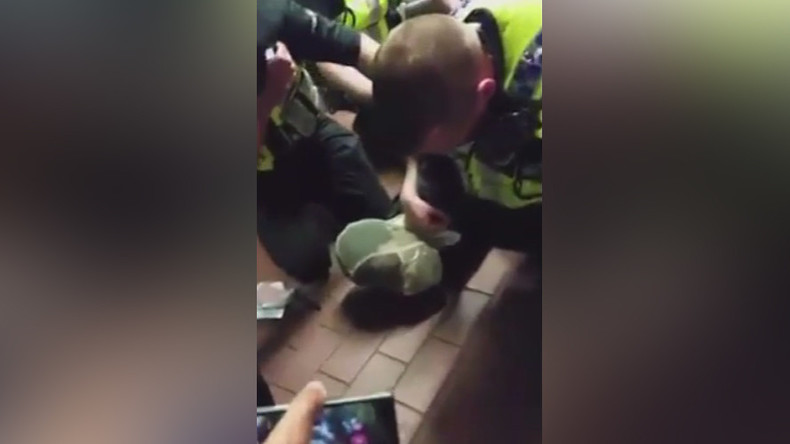 Police have launched an internal inquiry after footage emerged of a young black man being pinned to the ground by a group of officers and having a spit hood placed over his head at a London train station.
IK Aihie, 20, was detained by British Transport Police at London Bridge Station on July 21.
The officers claim Aihie became "aggressive" after they intervened in an argument between him and his girlfriend.
Police say he threatened to spit at them, so they placed a covering called a "spit guard" over his head, which is designed to protect officers from prisoners biting and spitting.
The footage shows Aihie yelling "it hurts, it hurts," as he is pinned to the ground.
Aihie's girlfriend, Jessica McConkey, can be seen begging witnesses to film the incident, calling his treatment "disgusting."
"He's a young black boy, he's had an argument with his girlfriend, that's it. You have an argument with your girlfriend and that happens," she can be heard saying.
When officers put the hood on Aihie, passengers can be heard saying: "What the hell are you putting on his head?"
McConkey told the Guardian: "Both IK and I are law-abiding citizens and have the utmost respect for the police force and the work they do.
"However, in this instance we were treated unfairly and the use of force during IK's arrest was excessive and unwarranted and I have made a complaint to the British Transport Police."
Aihie told the newspaper: "It was a completely terrifying experience for both of us and I've been left bruised and shaken. I've never been arrested before and I certainly don't intend to be ever again."
The footage was filmed by a commuter, Ayda Mosharraf.
"I saw the guy getting arrested. They were getting pinned to the wall and he was asking why he was being arrested. He was saying, 'what are you arresting me for? I want to know' and they weren't answering," Mosharraf told the Guardian.
"That was making him frustrated. He said, 'I haven't done anything wrong.'"
"I've never witnessed anything like that before. I've never seen an arrest like that. I didn't know - is that the usual way you arrest somebody? Putting on the spit hood - what was the reason for that?
"I didn't see him spit and I was so close. I can understand it makes a person feel like a dog."
Aihie was taken to a police station and was held overnight before being given a caution for a public order offense.
The police said a complaint about excessive force was being investigated by its professional standards department.