High and dry: Alcohol crackdown at UK airports after boozy Brits wreak havoc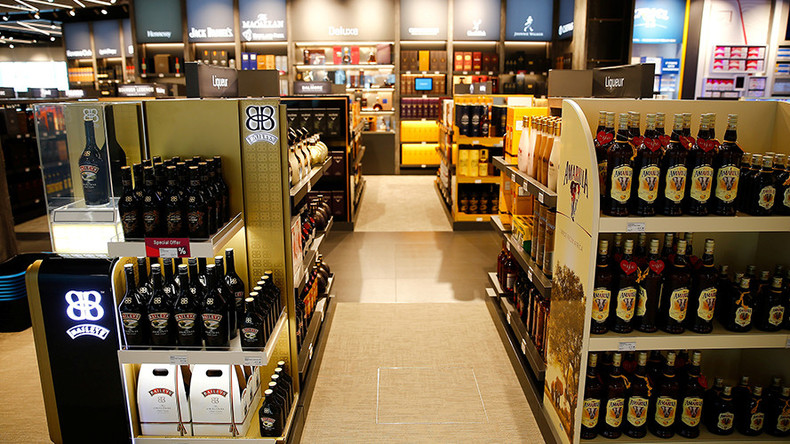 Britain's new aviation minister has pledged a crackdown on alcohol sales at airports after dozens of drunken Brits caused havoc on flights, with one man allegedly drinking a whole bottle of vodka before abusing fellow passengers.
Lord Ahmad has announced he will look into the way alcohol is sold in airports to ensure business travellers and families going on holiday feel "safe and secure."
The peer will examine the timings during which alcohol is sold in airports and ways to prevent drunken passengers boarding planes.
Ahmad denied he wants to "kill merriment altogether," but insisted passengers need to be "responsible" when flying.
"If you're a young family travelling on a plane you want to go from point A to B, you don't want to be disrupted," he said.
"I don't think we want to kill merriment altogether, but I think it's important that passengers who board planes are also responsible and have a responsibility to other passengers, and that certainly should be the factor which we bear in mind.
"In terms of specific regulations of timings of outlets (which sell alcohol) and how they operate, clearly I want to have a look at that."
Simon Calder, travel editor of the Independent, said the government's review will lead to more control over how alcohol is sold at airports.
Speaking on ITV's Good Morning Britain, he said ministers may also consider breathalyzing passengers who are thought to be intoxicated.
Last month a British easyJet passenger was arrested after allegedly downing a bottle of vodka before abusing passengers and crew on the Corfu-bound flight.
The pilot said: "We have had a nightmare. The man threatened our cabin crew, me and passengers, and then threatened to kill his girlfriend and children who were on the flight with him."
You can share this story on social media: