Soldiers to patrol French beaches popular with British tourists amid terrorism alert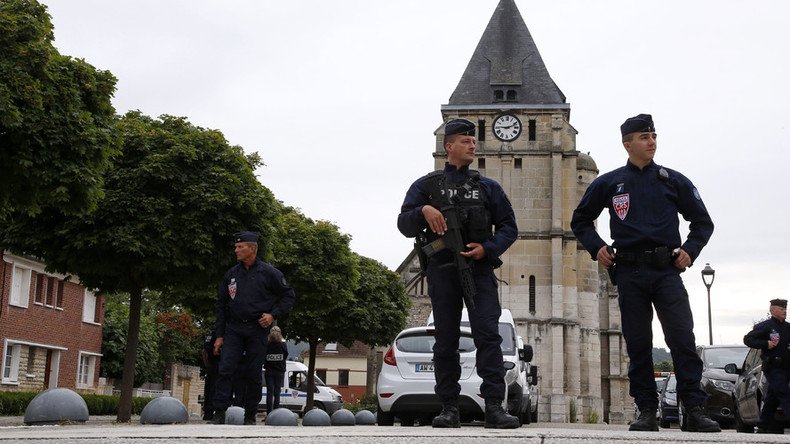 Soldiers and armed police and will be stationed at French holiday sites popular with British tourists this summer, amid fears Islamist terrorists may target vacationers.
An additional 23,000 troops and police will be deployed to patrol beaches, festival sites, stations and airports following a spate of attacks, the Times reports.
Cannes council announced on Wednesday that the city would be banning backpacks and other non-transparent bags from beaches.
French Interior Minister Bernard Cazeneuve said the additional officers will be deployed to 56 festivals, open-air concerts and fairs.
The government has also launched SAIP, a free smartphone app, to warn people of possible security threats.
The new security measures come after the Bastille Day massacre in Nice left 84 people dead earlier this month and a priest was murdered in his church in Normandy by two Islamist extremists on Tuesday.
READ MORE: Churches told to bolster security after ISIS murder of Normandy priest
The Foreign Office has warned British travelers of "a high threat from terrorism" in France in its latest travel advice.
France has extended its state of emergency—first imposed after 126 people were killed in the Paris attacks last November— for another three months after the Bastille Day attack.
Earlier this month, French officials said the number of tourists arriving on regular flights has dropped by 5.8 percent since January, with an 11 percent fall in Paris.
Franco-Dutch airline Air France-KLM warned of the impact of the attacks on the tourism industry, saying they have seen a drop in revenue in recent weeks.
"The terrorist attacks that have happened in Europe, but especially in France, are of course hurting France as a destination," Air France-KLM chief financial officer Pierre-François Riolacci said earlier this week.
You can share this story on social media: