Britain providing 'safe haven' to Gaddafi-era figures accused of embezzling millions from Libya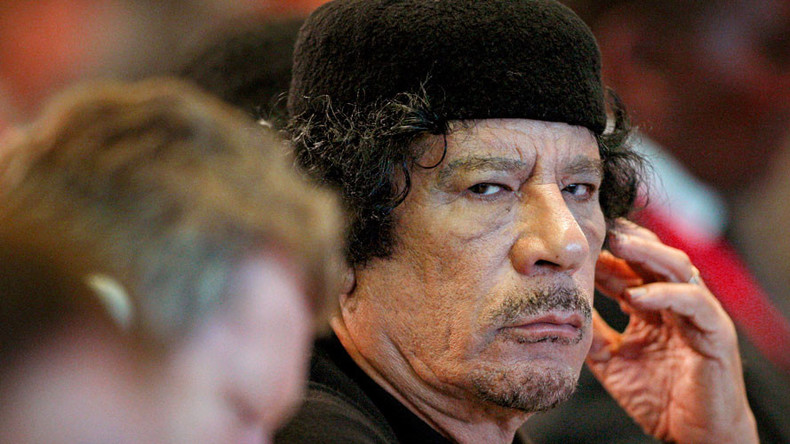 Three figures from the former government of Libyan dictator Colonel Muammar Gaddafi are living safely in Britain despite being wanted in Tripoli for allegedly embezzling millions out of the country.
The three men are on a list of former regime figures wanted by prosecutors in Tripoli for allegedly fleeing the country with assets stolen from the state in 2011.
BuzzFeed News which carried out an investigation says the men have been given safe haven in the UK despite standing accused of laundering millions of pounds using British banks and property deals.
The news website's investigation found General Ahmed Mahmoud Azwai living in Surrey, one of Britain's wealthiest counties. It's claimed he laundered millions through property deals in the Home Counties using offshore companies.
Azwai was reportedly in charge of maintaining Gaddafi's Scud-B missile stockpile.
He denies stealing from the state, and apparently did not respond to questions about his role in Gaddafi's military.
Brigadier Guima Elmaarfi, who now lives in a large house in southwest London, is suspected of escaping Libya with £14 million ($18.3 million) and is wanted for allegedly laundering stolen assets in the UK.
Elmaarfi commanded a military brigade in the town of Tarhuna.
Buzzfeed says he denies all allegations, and insists he was forced to leave his home country empty-handed.
His son, who fled with him to Britain, was jailed two years ago for stabbing a teenager with a kitchen knife and carving his initial into the abdomen of a man who had been beaten unconscious.
BuzzFeed says it has been banned from naming the third member of the Gaddafi regime found hiding out in Britain, after he hired law firm Mischon de Reya and top QCs Dinah Rose and Monica Carss-Frisk to obtain a gagging order from the High Court on Monday.
Lawyers and investigators acting for the Libyan state say the three former officials are among 240 regime figures suspected of hiding stolen assets worth £7.6 billion ($10 billion) in the UK.
Documents reveal the Libyan Transitional Government wrote to Britain's Serious Organised Crime Agency (SOCA) in 2012 asking for assistance in recovering the money allegedly "obtained through corrupt or illegal means."
But they say British authorities have done nothing to help them investigate, instead allowing all three men to settle in Britain and granting Elmaarfi and Azwai political asylum.
The revelations raise questions about the government's repeated pledges to get tough on money laundering.
Since NATO's intervention in 2011, Libya has descended into chaos with an economy in deep recession and oil revenues tumbling.
Three rival government factions are still struggling for control of a nation gripped by war.
You can share this story on social media: