'War crime': Gaddafi, his son and over 60 loyalists executed by rebel fighters – HRW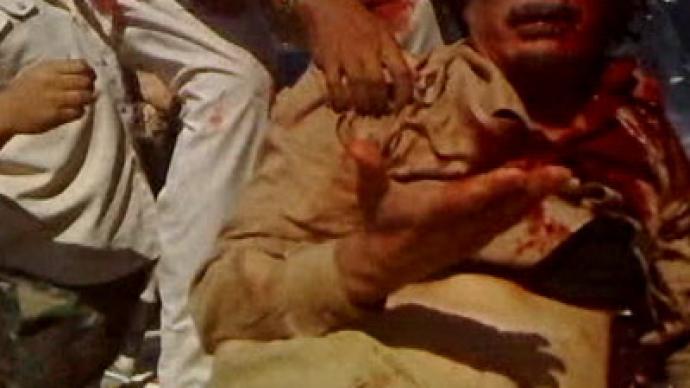 Libyan rebels abused and mass murdered Colonel Gaddafi, his son Mutassim, and 66 loyalists, after their capture a year ago, Human Rights Watch says. It calls for an investigation and prosecution of those responsible for what they slam as a war crime.
The 50-page report "Death of a Dictator: Bloody Vengeance in Sirte" details the last hours of Muammar Gaddafi's life on October 20, 2011, when he was caught trying to leave the city with his remaining supporters. HRW admits difficulty in reconstructing the final days of Libya's ex-leader since "he was surrounded by a small circle of trusted confidants and bodyguards, most of whom were killed in the attempted escape from Sirte," stated the report. The report relies heavily on interviews with Mansour Dhao, a senior security official and head of the pro-Gaddafi People's Guard, and other surviving witnesses of the event. The interviews took place in Libya two days after Gaddafi's death.
Capture, abuse, murder
Gaddafi is said to have fled Tripoli with a handful of his trustful men in the end of August to his hometown of Sirte, where he "spent most of his time reading the Koran and praying," Dhao told HRW. "His communications with the world were cut off. There was no communication, no television, no news," he added. On October 20, Gadaffi's son Mutassim deemed the situation unsafe and organized a 50-vehicle convoy for all to flee the city in the morning. The convoy consisted of 250 people, including civilians who supported Gaddafi.As the cars were trying to make their getaway they were struck by a NATO air-fired missile, which exploded next to the car carrying Gaddafi. In defense, the convoy turned on to a dirt road, but was pinned down by militia fighters and then further bombed by NATO fighter jets.After the bombings Gaddafi, accompanied by 10 other people, including his bodyguards, tried to take shelter by a drainage pipe, but was once again attacked by militia.One of Gaddafi's bodyguards reportedly threw three grenades at the rebels, but one of the grenades hit a cement wall and bounced back, injuring Gaddafi and leading to his capture. "As soon as the militia fighters had custody of Gaddafi, they began abusing him. Blood was already gushing from the shrapnel wound in his head. As he was being led to the main road, a militiaman stabbed him in his anus with what appears to have been a bayonet, causing another rapidly bleeding wound," described the report.Video clips taken of the capture suggest that after enduring abuses Gaddafi was shot by militia fighters. Report suggests that rebels took "bloody revenge" against Gaddafi and his loyal supporters in light of the eight-month civil war.
An HRW team on the ground counted that 103 pro-Gaddafi supporters died during that escape. Half of those were killed by NATO bombings, and the other half was either killed in combat or executed.On top of that, 140 Gaddafi loyalists were taken prisoner, but instead of being transferred to prison authorities, 66 of them were executed in a nearby hotel. Gaddafi's son Mutassim was also captured alive, according to YouTube videos taken by his captors. However, by the afternoon of the same day, Mutassim was dead with a large new wound in his throat, suggesting he was murdered, HRW concluded."The throat wound thus must have been inflicted after the videos of a captured Mutassim were recorded, strongly indicating that he was killed in the custody of his captors just hours after he was detained."HRW points out that "these killings apparently comprise the largest documented execution of detainees committed by anti-Gaddafi forces during the eight-month conflict in Libya. The execution of persons in custody is a war crime."
Libya's powerless authority
HRW also accuses Libyan transitional government of lack of control and unity for failing to properly investigate and prosecute those responsible for the killings in Sirte, a year after the incident. "To some extent, the failure of Libya's authorities to investigate shows their continuing lack of control over the heavily armed militias, and the urgent need to bring Libya's numerous militias under the full control of the new authorities."UN and International Criminal Court (ICC) have already been calling upon Libya to investigate Gaddafi's death back in October 2011. ICC had spoken out that there were strong indications Gaddafi was killed in custody, yet it left things be by letting Libya to investigate on its own. Libya announced it had created a committee to look into circumstances of death. However, there has not been a proper update into the investigation in just under a year. Back in January, Gaddafi's daughter Aisha hired Nick Kaufman, an Israeli lawyer, to convince the International Criminal Court to investigate the full circumstances of her father's death, arguing that time for a proper probe is running out."[The investigation] would involve forensic analysis of the crime scene, ballistic analysis of the crime scene, it would involve taking detailed statements from objective and independent witnesses," Kaufman told RT. And with time memories deteriorate, people forget, and evidence goes missing. Yet Aisha's efforts failed to yield results. When HRW contacted Libya government imploring them to take action, local authorities stated that all murders were the result of Gaddafi regime's "dictatorship" and that rebels were defending themselves. However, they failed to account for those evident executions.
You can share this story on social media: