Self-driving 'drone' trucks trialed by British army to supply frontlines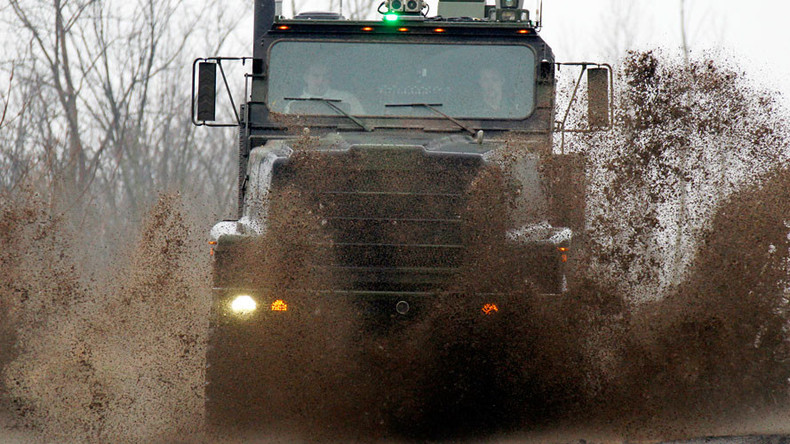 Unmanned military trucks will be trialed by the UK military as early as 2017 with the aim of resupplying troops engaged in operations without risking drivers.
Trials of the autonomous vehicles will begin next year. The innovation is thought to have been initiated because of the substantial loss of life among military drivers due to roadside bombs in Iraq and Afghanistan.
The Ministry of Defence (MoD), along with the US Department of Defense (DoD), will ask arms companies to compete for contracts from September 2016, with testing scheduled to start in the US in October.
Provisional testing along similar lines has already taken place. The US demonstrated in 2014 that prototypes of unmanned cargo vehicles could negotiate hazardous conditions during a trial.
The UK will announce its own automated delivery system program on Thursday at the Farnborough Air Show – the annual centerpiece of the UK arms trade calendar.
Defense procurement minister Phillip Dunne will speak about the plan alongside his DoD counterpart, Frank Kendall.
In a statement to the Times newspaper, Dunne said "We're looking to exploit technology that's being used in the civil sphere and deliver it in the defense sphere. We're not talking about an automated fighting vehicle just yet."
He explained that the collaboration with the US was part of the so-called "special relationship" between the two nations, which has existed for 75 years.
"This collaboration on assured resupply will put our nations at the forefront of future developments – allowing us to transform our approach to military logistics," he said.
The UK effort will be led by the MoD's Defence Science and Technology Laboratory (DSTL) in partnership with the British Army, which provides most of the land-based logistical power for the UK's military.
While airborne unmanned vehicles like Reaper and Watchkeeper drones have become the most iconic pilotless equipment, the rapid development and associated risks of the maritime and land-based versions are less well known.
In May, a leading security scholar warned that technological advances in the maritime drone field will make the ocean "transparent," meaning weapons such as Britain's Trident nuclear submarines will be unable to hide from enemy detection.
Professor Paul Rogers, who teaches security at Bradford University, made the comments in an analysis piece for the OpenDemocracy website.
"One issue in particular is of deep concern to the authorities: whether the oceans are in the process of becoming transparent," he warned.
"If the submarines which carry the missiles become detectable, they will no longer constitute a secure nuclear force."