Arms firms profiting from refugee crisis bought 'access' to Scottish politicians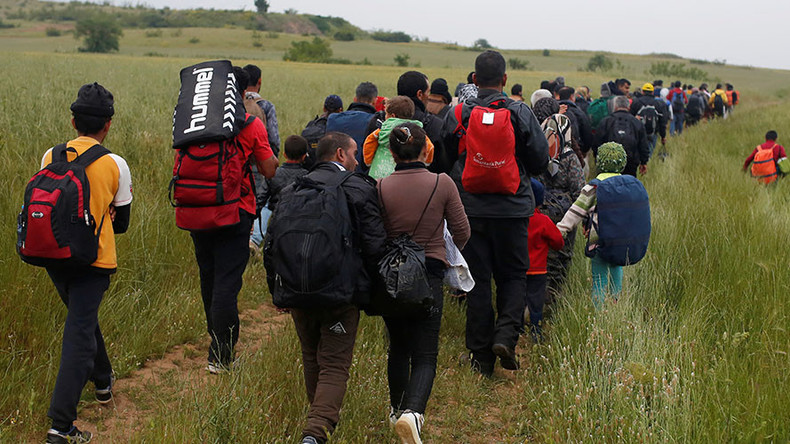 Arms firms like Airbus, which are cashing in on border security deals to hold back refugees, paid for exclusive access to ministers of the Scottish Parliament (MSPs), a new report claims.
Airbus, the seventh-largest arms producer in the world, makes jets, helicopters and even drones, which are marketed for border security purposes.
The 'Border Wars' report by Dutch group Stop Wapenhandel claims that arms firms, including Airbus, "provide the equipment to border guards, the surveillance technology to monitor frontiers, and the IT infrastructure to track population movements.
"Most perverse of all, it shows that some of the beneficiaries of border security contracts are some of the biggest arms sellers to the Middle East and North African region, fueling the conflicts that are the cause of many of the refugees," the group said.
The report claims that such businesses are cynically "creating the crisis are then profiting from it."
"Moreover they have been abetted by European states who have granted the licenses to export arms and have then granted them border security contracts to deal with the consequences."
Airbus allegedly enjoyed privileged access to MSPs as part of its membership of the Scottish Parliament and Business Exchange (SPBE).
The SPBE does not regard itself as a lobbying group and is a registered charity in Scotland, however firms must pay to sign up. Companies involved in the past include security giant Serco and energy firm Shell.
Speaking to the Ferret investigative news website on Wednesday, Mark Akkerman of Stop Wapenhandel said arms firms are determined to influence "national government and politicians in European countries."
"Even though the lobbying by Airbus in Scotland is probably not focused on military or border security issues, I think the company's business of fueling conflicts and profiting from the refugee crisis should be reason enough to be very cautious about maintaining any relationship with it."
Campaign Against Arms Trade (CAAT) spokesman Andrew Smith told the Ferret that Airbus "has sold military equipment to regimes with appalling human rights records. The Eurofighter, which it has worked closely on, has been central to the Saudi-led devastation of Yemen."
He warned that arms firms enjoy a "totally disproportionate voice in the corridors of power" and that the Scottish Parliament should reject their advances.
Scotland's Holyrood parliament canceled its own membership of the SPBE in March.