UK faces climate change wars, deadly heatwaves… and a boost in tourism, govt advisors say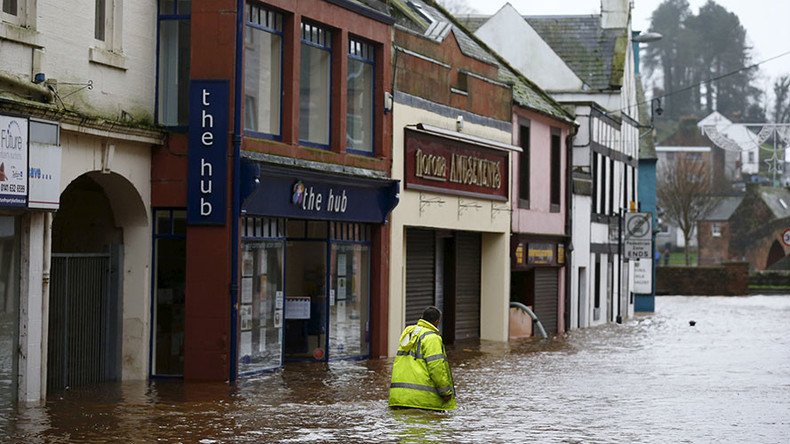 Britain is not prepared for the flooding, water and food shortages, deadly heat waves, and coastal erosion that could be induced by climate change in the next 50 years, government advisors have warned.
The Climate Change Committee (CCC) has released a 2,000 word report on the impact rising temperatures could have on the UK based on pledges to cut emissions made at last year's Paris climate conference.
The committee says in the most extreme scenario summer temperatures in London could hit 48 degrees Celsius (118 degrees Fahrenheit) if emissions increase, and the deadly heatwave of 2003, which peaked at 38.5 degrees Celsius, could be the new normal for summers by the 2040s.
Heat-related deaths among the elderly will triple to 7,000 a year by the 2050s as summer temperatures rise, the committee warns.
The CCC says climate-stoked wars between countries fighting over scarce resources and the resultant disruption in world trade could have very significant consequences for the UK.
Flooding already costs Britain £1 billion in damage every year. The committee says climate change will lead to more rainfall and flooding, which could destroy bridges and other infrastructure, including electricity, gas, and IT connections.
It also warns that poor farming practices mean fertile soil will be badly degraded by mid-century, when the proportion of prime farmland is expected to have fallen from 38 to 9 percent.
The committee says climate change is likely to drive food prices up. About 40 percent of UK food is imported, making Britain vulnerable to droughts and floods around the world.
Climate change also poses a risk to public water supplies and freshwater ecology, as well as supplies of water for agriculture, energy generation, and industry.
If temperatures are driven up significantly, many places in the UK will need 2.5 times more water than will be available.
"The impacts are potentially high for otherwise healthy people, animals and plants," the report states.
"Higher temperatures will lead to an increased risk of the Asian tiger mosquito, the vector of Chikungunya virus, dengue fever and Zika virus. The current risk remains low, but may increase in the future."
The committee also outlined some benefits the UK may reap from climate change.
It is expected that UK businesses will see an increase in global demand for adaption-related goods and services such as engineering and insurance. Tourism may also increase and milder winters will reduce heating costs and cut winter deaths from cold.
Professor Piers Forster from the University of Leeds told the BBC that "the UK gets off lighter than many countries but this important report confirms that we are already seeing damage to homes, businesses and livelihoods."
"There are a few opportunities hidden in the mix, but the future is clearly one of increased risk that we need to prepare for now," he said.
You can share this story on social media: