Assassination threats forced UKIP boss Nigel Farage to resign - reports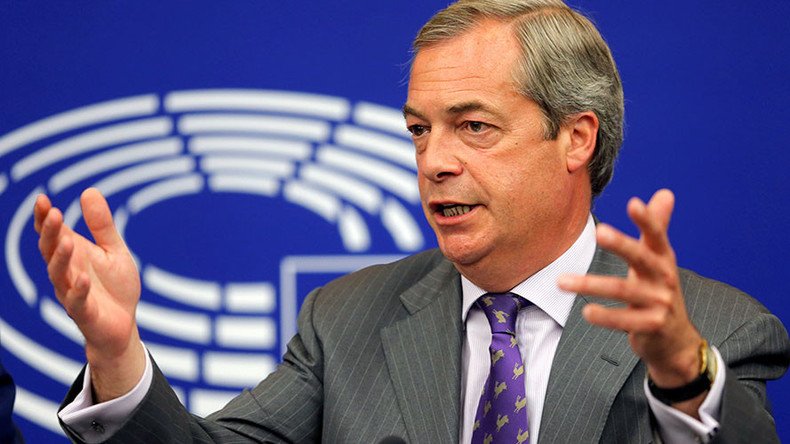 Brexiteer Nigel Farage stood down as UKIP leader because he feared for his life, it has emerged. Threats were also allegedly made against his family during the EU referendum campaign.
Last Monday, the Leave campaigner and MEP announced his resignation, saying Britain's vote to leave the EU on June 23 meant his "political ambition has been achieved."
"I have never been and I have never wanted to be a career politician.
"I couldn't possibly achieve more than we managed to achieve in the referendum. So I think it's right that I should stand aside as leader of UKIP.
"During the referendum campaign, I said I want my country back. What I am saying today is I want my life back, and it begins right now."
However, it has been claimed Farage's reasons for resigning may run somewhat deeper.
According to the Daily Express, Farage has been disturbed by a surge in daily threats that have worsened dramatically since the vote for a Brexit.
The newspaper claims he gave a police statement about threats made to his family. It is understood those threats were made against his daughters, aged 11 and 16.
Would-be attackers were caught on at least two occasions trying to smuggle knives into EU referendum campaign rallies attended by Farage, the Mirror reports.
Hundreds of messages have also been posted to social media making threats against Farage.
One on Twitter reads: "I will pay for someone to shoot Nigel Farage."
Another says: "Punch, stab or shoot: Nigel Farage, Boris Johnson and Michael Gove. Go! #PunchStabOrShoot."
The Daily Express says Farage's family life has also been under strain, which contributed to his standing down.
"It has been a huge chunk of my life doing this and it's not easy, perhaps when you feel a degree of ownership of something, perhaps to let it go.
"But it has come at a cost to me and perhaps those around me," Farage said in his resignation speech.
Farage, who returned to the leadership almost immediately after resigning from his post in the wake of a disappointing UKIP result at the 2015 general election has ruled out the possibility of changing his mind once more.
His resignation has sparked yet another leadership battle in British politics, with his deputy Paul Nuttall and MEP Steven Woolfe among the expected contenders to succeed him.
You can share this story on social media: