'Black Lives Matter' England shows support for US victims of police brutality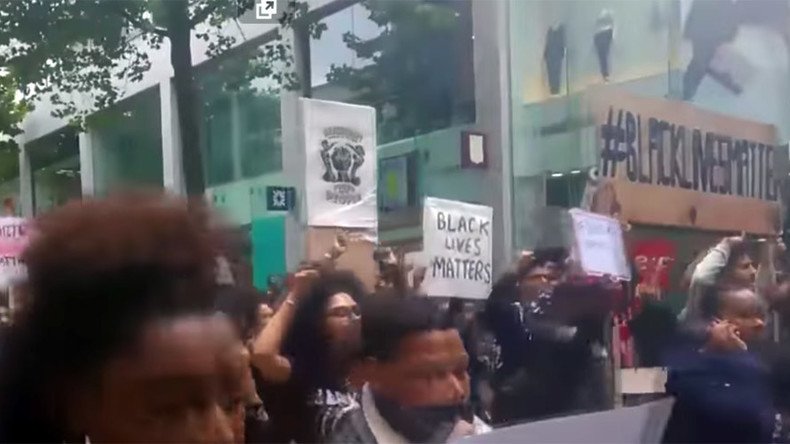 Black Lives Matter marches took place across the UK on Friday and Saturday to protest the latest police killings of black men in the US.
On Friday, protesters marched to Westminster in London in a demonstration organized by Black Lives Matter London as a "plea for help". The group was founded by Maryam Alian, an 18- year-old girl still at school.
"These people coming here to stand and unite, they are showing that they are against police brutality and that's the most important thing." she explained.
About 300 gathered in London's Brixton to march to the local police station on Saturday, shouting "hands up, don't shoot" and "black lives matter."
In Birmingham, crowds gathered at the Bullring shopping center to show support for the victims of police brutality. A second protest called for justice for student Kingsley Burrell who died after being arrested in the West Midlands.
Another march is planned to take place at Oxford Circus in London on Sunday. "We're going to keep showing our support," Ali said.
The international marches were sparked following two fatal police shootings of black men within 48 hours in the US. Footage from both scenes went viral online.
On Tuesday, Anton Sterling was killed in Louisiana Baton Rouge after being roughly taken to the ground by two officers who shot him while he was pinned down.
In Falcon Heights, Minnesota on Wednesday Philando Castile was pulled and fatally shot by a police officer after he was pulled over for an alleged broken taillight. He was fired at as he was reaching for his driver's license. His girlfriend and her four-year-old daughter were in the car at the time, and Reynolds streamed the aftermath on Facebook, bringing the incident into the public eye.
READ MORE: 'Suspect down': Video footage, dispatch tape from Alton Sterling police shooting released (GRAPHIC)

The tension between protesters and the law enforcement was hiked further by the deadly attack against police in Dallas on Thursday night, which left five officers dead. The shooter was cornered and killed by the police with a bomb robot after a long stand-off.
You can share this story on social media: