Petition calling for 2nd Brexit referendum rejected by UK govt after collecting 4.1mn signatures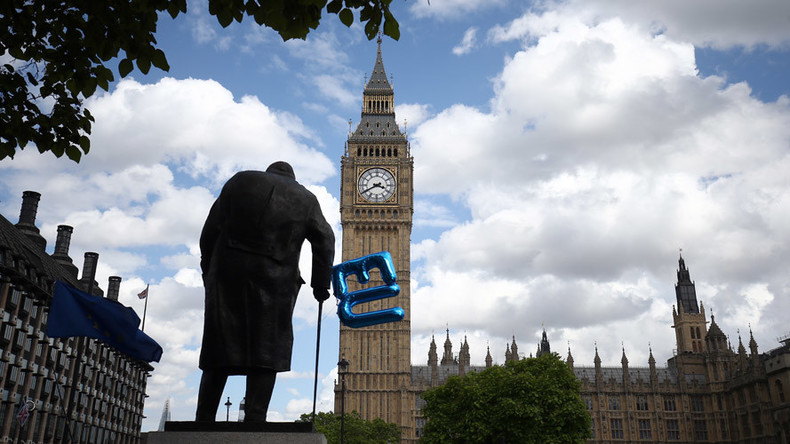 An online petition for a second referendum on Britain's European Union membership signed by millions of people has been formally rejected by the UK government.
The petition that garnered the signatures of more than 4.1 million people, making it the most signed petition in Britain's history, is not enough to hold another vote, the Foreign and Commonwealth Office said in an official reply.
An online petition needs to reach more than 100,000 signatures to be submitted to parliament for consideration.
People called for the government to put into effect a rule that a second referendum should be held if either of options – "remain" or "leave" – collects less than 60 percent of votes while a turnout is less than 75 percent.
The EU Referendum Act, passed in 2015, "did not set a threshold for the result or for minimum turnout," the Government responded under the petition, adding that "we must now prepare for the process to exit the EU."
"The Prime Minister and Government have been clear that this was a once in a generation vote and, as the Prime Minister has said, the decision must be respected."
Around 77,000 signatures were removed from the petition after hackers claimed they created thousands of fake names in a prank.
We have removed about 77,000 signatures which were added fraudulently. We will continue to monitor for suspicious activity.

— Petitions Committee (@HoCpetitions) June 26, 2016
Marine Le Pen, president of the far-right French party National Front, posted a video where she managed to sign the petition under the name of Napoleon Bonaparte, which did not contribute to the credibility of the plea.
Read more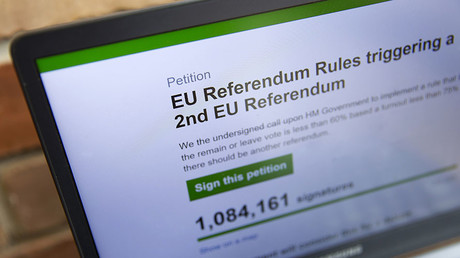 Signatures came not only from the UK but from other places as well including North Korea, the Falklands, Bermuda, China, Venezuela, the Cayman Islands, Iceland and Tunisia.
Last week, the Electoral Commission ruled that the online petition has neither legal authority nor binding force.
The petition, launched by William Oliver Healey in May long before the vote, attracted most of its signatories starting from June 23 when the referendum vote was held. Healey, a Brexit-supporter, created the document to urge a re-run, in the case of a narrow victory for remain.
The result of the vote saw 51.9 percent of votes, or 17.4 million, for leaving the EU versus 48.1 percent, or 16.1 million, for remaining in the bloc.
The outcome of the referendum has sparked massive protests in London with thousands of people saying they regret they didn't vote "remain" thinking it would change nothing.