British govt urged to come clean on 'links to torture' after Iraq invasion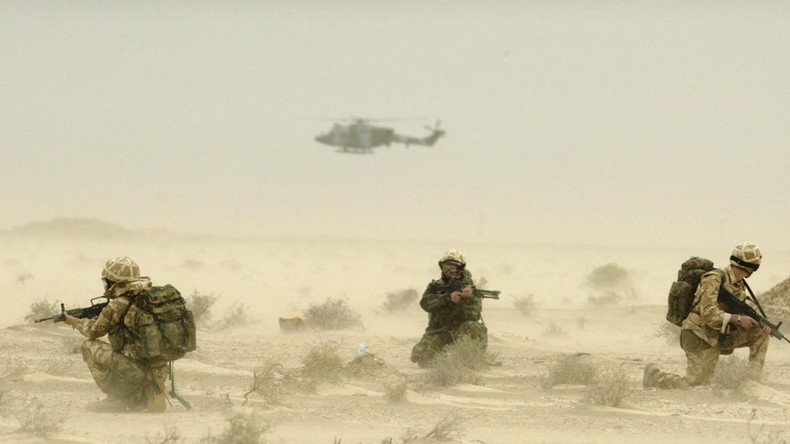 "Faulty evidence" extracted by torture and used to justify the US and UK invasion of Iraq shows a specific inquiry, separate to the Chilcot report, is urgently needed, human rights organization Reprieve says.
The group is calling for the re-establishment of an independent, judge-led inquiry into Britain's involvement in the US rendition program, which saw detainees flown around the world and subjected to torture.
In 2003, both then-US Secretary of State Colin Powell and then-British Prime Minister Tony Blair made the same argument for the invasion of Iraq – that Saddam Hussein was supporting Al-Qaeda.
However, a 2008 Pentagon report found that information was false, and there was no direct connection between Saddam's regime and the terror group.
In 2014, the US Senate's intelligence committee said "evidence" had been extracted from a prisoner under torture "as a justification for the 2003 invasion of Iraq."
The claim by Libyan detainee Ibn Sheikh al-Libi was recanted on the basis that it was made under torture, "and [because he] only told them what he assessed they wanted to hear."
Former Guantanamo detainee Shaker Aamer, who was released to his home in London last year, has reported that British personnel were present during one of al-Libi's interrogations in Bagram prison, Afghanistan, while the two men were held there.
From Bagram, al-Libi is believed to have been rendered to Egypt, where he was further tortured, before ultimately ending up in Libya, where he disappeared.
Sonya Sceats of Freedom From Torture, the medical foundation for the care of victims, says British abuse of Iraqis "haunts" the pages of the Chilcot report, despite the purpose of his inquiry being the examination of political questions and military preparedness related to the invasion of Iraq.
"Keeping British involvement in torture abroad away from our judges and denying justice to the victims has become a running theme under this government.
"Delays in unveiling the Chilcot report pale in comparison to [Prime Minister] David Cameron's foot-dragging in exposing the truth about UK collusion in torture in the context of the so-called 'war on terror.'
"Our next prime minister must show more leadership by delivering the government's promise of an independent, judge-led inquiry into torture complicity and otherwise allowing our world-renowned justice system to deliver accountability for any lapses in Britain's commitment to the absolute ban on torture," Sceats said.
A recent statement by the Crown Prosecution Service (CPS) provided the first official confirmation of British complicity in the CIA rendition program and political knowledge of the operations.
The CPS stated that the unnamed "suspect" – believed to be MI6's Sir Mark Allen – had been involved in the 2004 kidnap and rendition of two families to Colonel Muammar Gaddafi's Libya, and had sought "political authority for some of his actions."
However, the CPS claimed there was "insufficient evidence" to bring charges.
An inquiry into torture under Sir Peter Gibson was established in 2010, little more than a year after then-Prime Minister Gordon Brown launched the Chilcot Inquiry in 2009.
In 2012, the government announced the Gibson Inquiry would be shelved before it had completed its work.
The task has since been handed to Parliament's Intelligence and Security Committee (ISC), a body which is subject to a government veto on what evidence it is allowed to examine and the information it is allowed to publish.
Reprieve says the ISC has refused to answer multiple questions on what evidence it has received, the progress of its inquiry, how it will overcome problems associated with its lack of independence from the government, or how long the inquiry will take.
You can share this story on social media: