Did UK govt spend £10mn keeping Jack Straw & MI6 chief out of court over rendition?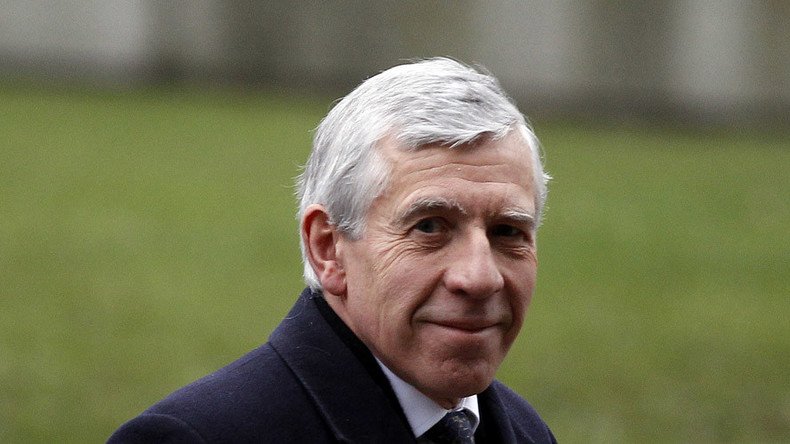 Keeping Iraq war-era Foreign Secretary Jack Straw and former MI6 boss Mark Allen out of court may have cost the taxpayer up to £10 million, according to figures released under the Freedom of Information (FoI) Act.
The figures, seen by the Guardian, show that upwards of £600,000 (about US$790,000) has been spent keeping the likes of Jack Straw out of court and jail by fighting against a civil case brought by victims of US kidnap and torture – known as rendition.
The controversy centres on two Libyan dissidents and their families who both claim to have been rendered to Libya and handed to the Gaddafi regime's torturers with British complicity.
The FoIs suggest up until September 10, 2015, the government spent £355,000 in taxpayers' cash on internal legal help and £259,000 on external advice in an effort to escape the case.
That included £27,000 worth of advice on former MI6 head Allen's case and £110,000 on Straw.
The documents indicate that two senior barristers received up to £250 each per hour, while junior lawyers received between £45 and £120 per hour for working on the case.
It is estimated that, given the figures are almost 10 months old, the total outlay could be as high as £10 million.
The Crown Prosecution Service (CPS) recently ruled it would not prosecute in the two cases, which came to light after files were found in the wreckage of a government building in Libya after the 2011 war there.
Abdel Hakim Belhaj, a leading Islamist opponent of the Gaddafi regime, was taken to Libya and imprisoned for six years. He maintains he was tortured.
His pregnant wife was taped to a stretcher following the MI6 tip-off that betrayed the couple. She was then taken on a 17-hour flight and later imprisoned for four months.
Another dissident mentioned in the documents, Sami al-Saadi, was also imprisoned and claims to have been tortured.
Both men say UK spies were present for their interrogations by Libyan secret services.
Cori Crider, a lawyer at human rights organization Reprieve, which has represented the families, told the Guardian Monday: "The government has wasted over half a million pounds in taxpayers' money arguing that torture cases shouldn't get their day in court, simply to spare the blushes of MI6 and the CIA."
She urged the government to "finally come clean over Britain's involvement in rendition and torture, and apologize to the victims of this shameful practice."
You can share this story on social media: