Non-Firing guns & killer ejection seats – the UK's new F-35 stealth fighter finally arrives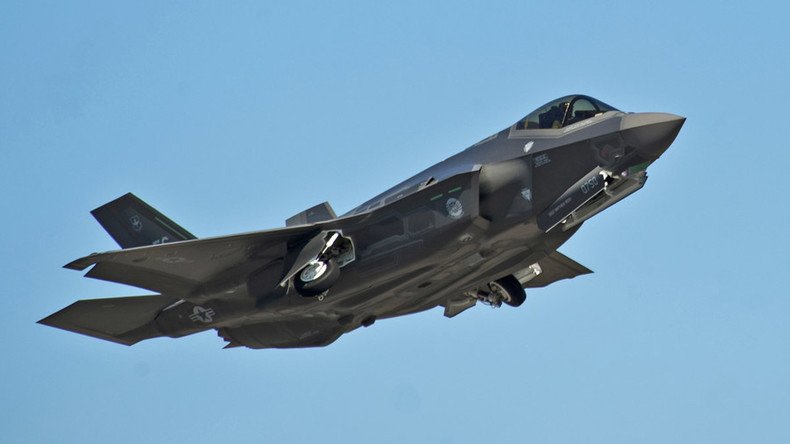 The first F-35 Lightning has touched down in the UK amid repeated controversies and uncertainty over whether the controversial aircraft will be as "formidable" as the military claims.
The first British F-35B, which arrived at an air force base in Gloucestershire on Wednesday night, will be known as the Lightning II in the UK.
The multi-role jet is being presented as a new "stealth" option capable of both vertical and normal take off.
The aim is to have 138 of the aircraft in service, with 36 deployed on each of the UK's forthcoming Queen Elizabeth aircraft carriers by 2020.
Defence Secretary Michael Fallon told the Times, "Whether operating from land or from one of our two new aircraft carriers, they will ensure we have a formidable fighting force.
"They are part of our plan for a stronger and better defence: more ships, more aircraft, more troops available at readiness, better equipment for special forces, more being spent on cyber – to deal with the increased threats to our country."
However the US-based Lightning project – which estimates suggest will ultimately cost up to £1.5 trillion – has been wracked with embarrassing mishaps and setbacks since it began in 2001.
Between 2009 and 2013, these included soaring costs, fears that the technology had been stolen by foreign spies, and concerns that the Lightning's fuel tank would explode if hit by actual lightning.
The fleet was grounded more recently by fears that its engine could catch fire. There have also been questions as to whether its gun will be unable to fire until 2019 and concerns that the plane's ejection system could kill pilots.
One test pilot has suggested that the aircraft handles worse in aerial combat than the 40 year old F16 fighter jet.
As recently as March, a software glitch was said to be taking the F-35's radar offline.
You can share this story on social media: