'Now get out!' Start Clause 50 exit process NOW, EU chiefs urge UK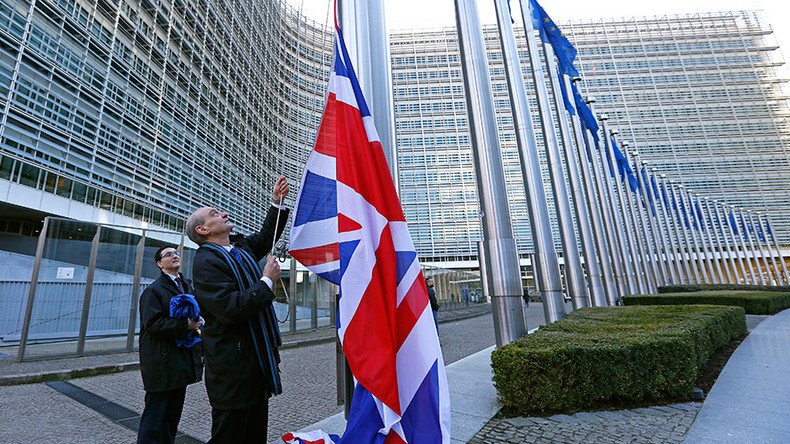 EU chiefs want to be rid of Britain as soon as possible, if a statement from the European Council released in the wake of the UK's shock Brexit is anything to go by.
It was released following a meeting of dignitaries including EU president Donald Tusk, parliamentary president Martin Schulz, Dutch PM Mark Rutte and European Commission president Jean-Claude Juncker.
The EU's top dogs told the UK to get out of the 28-member union quickly. They delivered a stark warning that until such a time as the political divorce goes through, Britain will be subject to all the treaties and agreements that go with membership.
"We now expect the United Kingdom government to give effect to this decision of the British people as soon as possible, however painful that process may be."
They said "any delay" would "unnecessarily prolong uncertainty."
"We have rules to deal with this in an orderly way. Article 50 of the Treaty on European Union sets out the procedure to be followed if a Member State decides to leave the European Union."
David Cameron resigned at 8am on Friday, saying the process of an actual legal exit would fall to his successor, who would be appointed by autumn.
However, Boris Johnson – a Leave advocate currently favorite to be the next Tory PM – said there was no rush to leave, a point picked up by former Swedish PM Carl Bildt on Twitter.
Watching UK TV I find it striking how leading Brexit figures don't really want to trigger mechanism to leave the UK. Trying to delay.

— Carl Bildt (@carlbildt) June 24, 2016
The departure of the UK from the bloc may start in the nearest future since European Commission President Jean-Claude Juncker said there is no reason to postpone the process until October when British Prime Minister David Cameron steps down.
"Britons decided yesterday that they want to leave the European Union, so it doesn't make any sense to wait until October to try to negotiate the terms of their departure. I would like to get started immediately," Juncker said in an interview with Germany's ARD television station, also promising to choose a "reasonable approach" for settling the matter.
"It's not an amicable divorce, but it was not exactly a tight love affair anyway," he said.
Clause 50?
Clause 50 is a part of the EU's Lisbon Treaty, which covers the potential exit of a member. However, the rule is untested, with Britain being the first member to attempt to leave.
Triggering the clause puts into motion a two-year process during which time an exit will be negotiated.
The process is by no means guaranteed to be smooth, or even happen at all. Each national parliament of the remaining 27 EU states will debate the issue and each has a veto. An exit is also at the mercy of a further national ratification process by each state.
Despite the urgent tone of the EU chief's statement, a further renegotiation of trade could take upwards of five years, as substantial negotiating teams on each side thrash out the whole process.
The UK does have an option to withdraw unilaterally, but this may prejudice any favorable trade settlement the country tried to reach with former EU partners.
WATCH MORE:
You can share this story on social media: