Drug dealers using child-friendly cartoon logos on 'cheap night out' ecstasy pills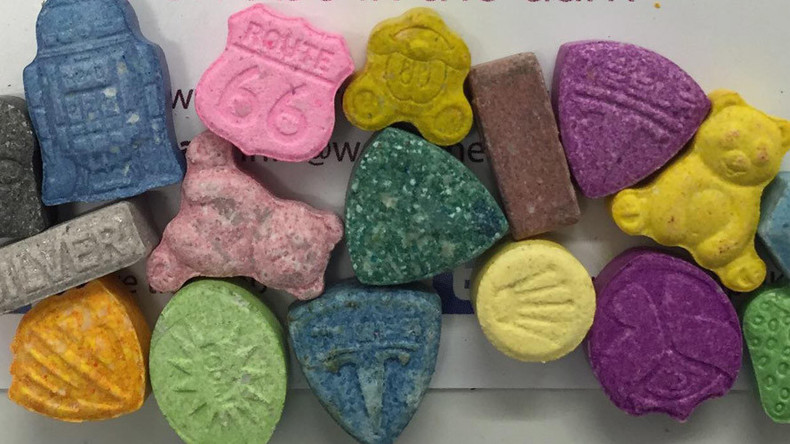 Child-friendly logos are increasingly being used on ecstasy pills, according to a drugs expert. The claim comes just days after three 12-year-old girls were hospitalized in Greater Manchester after taking "teddy" tablets.
Fiona Measham, member of the government's Advisory Council on the Misuse of Drugs (ACMD) and founder of The Loop, which tests drugs found at festivals, said half of the pills she tested at Parklife music festival in June had "children and youth-oriented designs."
READ MORE: 'War on drugs' has failed, decriminalize now – UK health experts
Measham tested 30 types of pills and said they fell into one of two design categories. The first was "luxury goods" such as Louis Vuitton and Rolex logos. The second bracket involved "youth-oriented designs."
"We saw pills with Darth Vader on them, R2D2, Mickey Mouse, as well as these "teddy" pills, in both pink and blue, which are actually shaped like teddy bears," she told the Guardian.
Measham said that while she doubted the illegal drug manufacturers were intentionally attempting to appeal to children, drugs such as the pink and blue tablets which are shaped like teddy bears could be enticing youngsters.
In the case of the 12-year-old girls, all three ended up in hospital in Salford on Saturday after consuming the pills. Police believe the drugs could have been mixed into a bottle of fizzy drink prior to the girls drinking the mixture.
Measham said cheap drugs are widely available in the same area for around £5 a pill, which is "a very cheap night out."
The drugs expert also believes pills are getting stronger. In May, a teenager died after reportedly taking a "Mastercard" ecstasy pill in Salford, which was found to contain 250mg of MDMA when tested at Parklife - an active ingredient in ecstasy, according to Measham. A standard dose is usually between 80-100mg, she added.