Baroness Warsi subjected to Islamophobic abuse after defection from Leave camp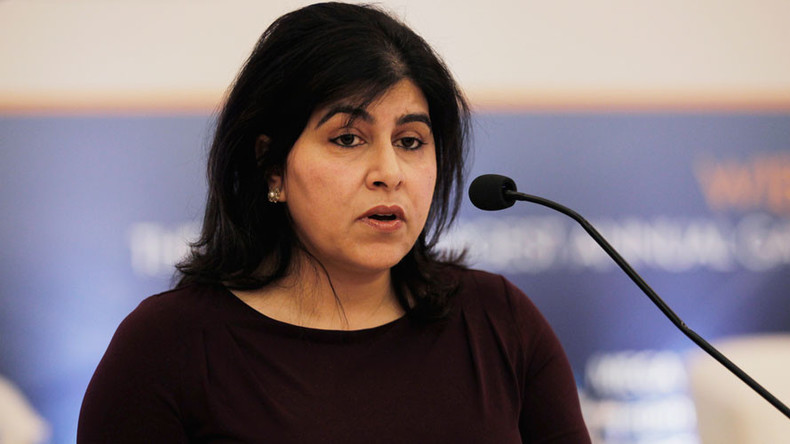 Tory peer Baroness Warsi has been subjected to online Islamophobic abuse since she switched her support to the Remain camp in protest at pro-Brexit "hate and xenophobia."
Warsi, a former Foreign Office minister, announced her departure on Sunday, citing a UK Independence Party (UKIP) poster depicting migrants queuing to get into the EU, under the slogan "breaking point," as the last straw.
"That 'breaking point' poster really was – for me – the breaking point to say, 'I can't go on supporting this,'" she told the Times.
"Are we prepared to tell lies, to spread hate and xenophobia just to win a campaign? For me that's a step too far."
The move triggered a slew of Islamophobic attacks against the peer on social media.
Warsi, who resigned in 2014 over the UK government's support for Israel's attacks on Gaza, was branded a "jihadist Trojan horse" and accused of hiring "fundamentalist" Muslim staff.
Others called her a "Cameron stooge." Several messages alleged she had taken some form of remuneration for her defection.
Warsi posted screenshots of the "vile" messages to her Twitter account.
Meanwhile, Vote Leave shrugged off the high-profile defection, claiming they could not remember her ever campaigning on their side.

"We don't remember Warsi ever joining our campaign so we are puzzled by her claims to have defected," a spokesperson for Vote Leave told the Times.
Pro-Brexit Tory MP Daniel Hannan said: "When I invited Sayeeda Warsi to join the Leave campaign, she declined. Fair enough, obviously. But how is this a defection?"
Been part of the leave campaign from start. I had no idea that @SayeedaWarsi was part of the leave campaign. News to all of us me thinks.

— Nadhim Zahawi (@nadhimzahawi) June 19, 2016
Warsi addressed criticism that she'd never been a part of the Leave campaign on BBC Radio 4 on Monday. She said: "I was making the case to leave long before Vote Leave had been established.

"Unfortunately what we are seeing as a vision for Britain are lies and xenophobic campaigning. Why is it people like me, who are instinctively Eurosceptic, are feeling they need to leave Leave?"
Warsi's decision comes after Tory MP Dr Sarah Wollaston switched from Leave to Remain earlier this month. Wollaston accused the campaign of peddling false claims about Brexit's effect on National Health Service (NHS) funding.