Our Daily Brexit: Will this photo make you vote in the EU referendum?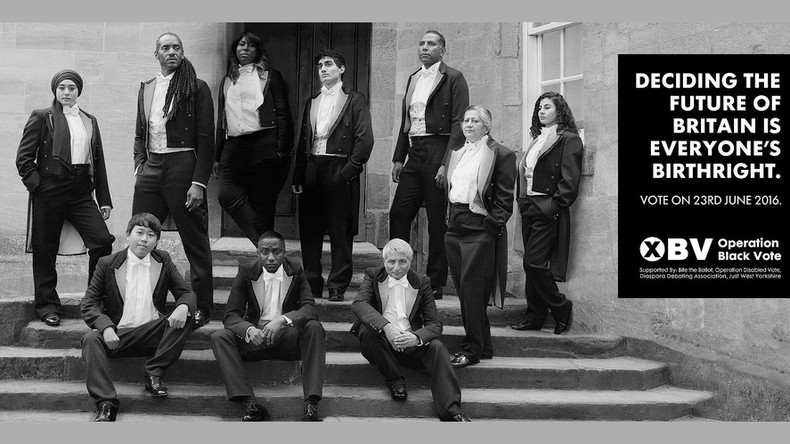 Voter engagement campaigners have launched a poster drive they hope will inspire Brits of black and minority ethnicity to take part in the EU referendum next week. RT looks at this and other headlines from the Brexit debate.
Operation Black Vote (OBV) teamed up with advertising agency Saatchi & Saatchi to kick-start a campaign designed to send a simple message to the UK electorate: the future is in your hands.
The poster takes inspiration from iconic photographs of the Bullingdon Club, an infamously exclusive Oxford University drinking society which boasts among its alumni 'Remain' frontman Prime Minister David Cameron and Brexiteer-in-chief ex-Mayor of London Boris Johnson.
Labour's incumbent London Mayor Sadiq Khan has thrown his support behind the campaign, which seeks to encourage 4 million black, Asian and minority ethnic (BAME) voters to cast their ballot on June 23.
"Our playful take on the infamous 'Bullingdon Club' seeks to illustrate that this most important referendum is not for the few and particularly not only for the privileged, but for everyone," said OBV director Simon Woolley.
Bookies bet on a Brexit
Opinion polls have recorded a surge in support for the Leave campaign, forcing bookies to slash odds on the UK leaving the EU. Bookmaker William Hill predicts Brexit will be the favorite bet by the coming weekend.
Current polling indicates 51 percent of Brits back Brexit, while 49 percent support remaining in the union.
William Hill media relations director Graham Sharpe said the company is having to shorten its odds for a Leave on a daily basis.
If betting translated into voting, Brexit would win hands down, Sharpe added. William Hill's current odds for Brexit are at 11/8.
Leave campaign attacks EU decadence
Brexiteers are pointing to the European Commission's high-spending on private jets and luxury hotels as a reason for voting Leave next week.
Brexit campaigners are challenging the EU to explain why Brussels officials spent five- and six-figure sums on travel arrangements.
Figures obtained via an EU financial transparency system show how commission staff spent €22,193 (£17,610 / $24,500) staying at the five-star Shangri-La hotel in Singapore in 2014, and €439,341 on luxury jets provided by Abelag/Luxaviation.
An EU spokesman said: "Only the president and commissioners have permission to use (rented) private planes and it is the exception rather than the rule for use when scheduled air travel would be more expensive or does not allow them to meet the itineraries they need to meet."
'Brexit would hurt banks, others may benefit'
Nobel Prize-winning economist Paul Krugman has weighed in on the Brexit debate by predicting that a vote to Leave the EU would deal a great blow to the City, but could actually benefit other parts of the country.
Writing in the New York Times, the US academic said a weaker pound may boost some regions of the UK.
"The economic impact of Brexit would fall quite differently on different groups within Britain. The City and those whose incomes are tied to its fortunes would probably lose badly, but some regions of the country might actually benefit from a weaker pound."
Krugman pooh-poohed the idea that a Britain free from Brussels' red tape would achieve spectacular growth, while also rubbishing the prediction that Brexit would cause a dramatic financial crisis.
The Nobel laureate reluctantly threw his support behind remaining in the EU on the basis that Brexit would mean sustaining a 2 percent loss of GDP.
"So I would vote Remain, but with some feelings of despair, because what I'd be voting to remain with is a system that desperately needs reform but shows little sign of reforming," he wrote.