More Tory election fraud allegations: MPs failed to declare online ad costs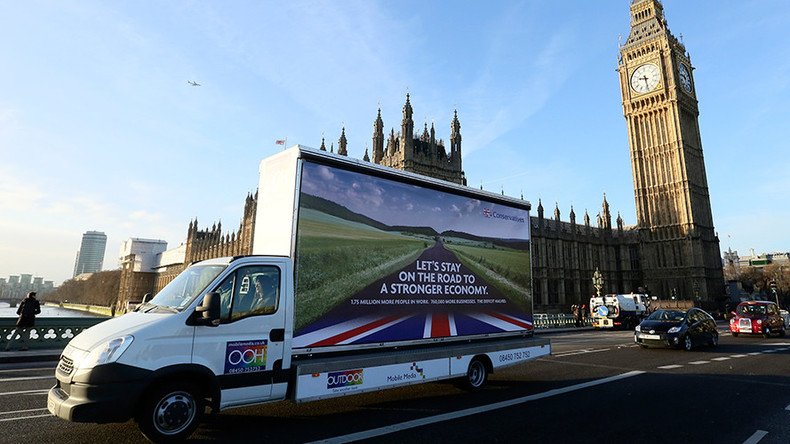 Two more Tory MPs face fresh allegations of fraud for failing to declare the cost of running negative campaign ads online, as police forces across Britain continue to probe the election spending of Conservative candidates.
Energy Secretary Amber Rudd and Amber Valley MP Nigel Mills apparently used local versions of national online advertisements designed by ad firm M&C Saatchi, but failed to declare the ads in their election spending returns, the Daily Mirror reports.
The Tories paid the ad agency, which has worked with the party for 35 years, £395,575 (US$580,000) for advertising costs in the run up to the 2015 election.
A 'wrecking ball' video ad created by Saatchi, and declared by the party under "national spending," was altered slightly and used by both Rudd and Mills on their YouTube channels for local campaigns.
Rudd posted a version of the same ad on her YouTube page on March 29, 2015, with the slogan changed from "Recovering Economy: Don't Let Labour Wreck It" to "Unemployment down by 1,921 in Hastings and Rye since 2010." The ad does not appear in Rudd's campaign election spending return.
Mills, who is already being investigated by Derbyshire Police for failing to declare the cost of a 'battlebus' filled with party activists, also ran a local version of the ad on his YouTube page, but did not report paying for it.
Mills is one of 28 Conservative candidates under investigation for having written off as "national spending" the cost of transport and hotel rooms for hundreds of activists bused in to rally support in contested parliamentary constituencies, allegedly breaking legal spending limits.
READ MORE: Buy-election? Tory MP fails to block election fraud investigation
An Electoral Commission spokesman said: "Our guidance explains that candidates need to make an honest and responsible assessment as to whether expenses were for their election of whether it was for promoting the national party.
"If used in a constituency and only promotes the national party and national policies then that should count as national party spend. If the cost promotes both the local candidate and national policies then a portion of the cost should be allocated towards the candidate's spending limit and a portion towards the party's national spending limit."
Neither MP responded to the Daily Mirror's request for comment.
You can share this story on social media: